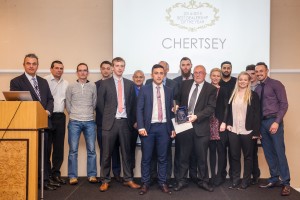 THE winners have been announced at the annual award ceremony for Mitsubishi's largest dealer group.
Chertsey Mitsubishi was the big winner, taking Dealership of the Year at the ceremony for CCR Mitsubishi, which has nine outlets across the south.
Chertsey also received a second award, scooping the Sales Department of the Year prize, while Dursley Mitsubishi took the award for After Sales Department of the Year at the ceremony at Alexandra House in Wiltshire.

CCR Mitsubishi's Managing Director Tim Bagnall said: 'It's been a great year. 2014 was the best year the group has ever had. It's been a really, really good performance across the board and within that there have been some exceptional performances from individuals and dealerships. These awards are well deserved.
'I would like to thank all the staff at our dealerships and the back office team that keep it all going. Everybody has worked really hard. We have recognised a few individual performances but everyone has played their part in making a serious sea-change in our fortunes and this is just the start of it. I am absolutely delighted.'
Chris Olds, from Bristol Mitsubishi, was named Sales Executive of the Year, Sharon Ryan from Swindon Mitsubishi took the prize for Administrator of the Year and Wayne Ball, from Dursley Mitsubishi, won Technician of the Year for the second year running. The award for After Sales Advisor of the Year was shared between Claire Holbrook and Sarah Williams, both from Melksham Mitsubishi.
Nick Palmer, Sales Manager at Chertsey Mitsubishi, said: 'Everybody has had a really positive attitude and worked very hard. The renewed interest that Mitsubishi has had over the last year has given us all an extra motivation to do as well as possible.'

MORE: Special guest arrives to mark opening of new Ford store
MORE: Car Loan 4U hits the fast lane with Zuto rebrand
MORE: Confused.com launches new partnership with Motors.co.uk
On SuperUnleaded.com: Incompetent Driver Buys Corvette – Crashes Into Tree