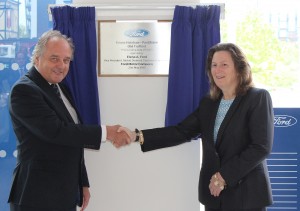 EVANS Halshaw Old Trafford celebrated the opening of its new concept Ford store with a very special guest.
Elena Ford, the great-great-granddaughter of automotive legend Henry Ford, visited Manchester to officially open the new flagship site following an investment of £750,000.
The site on Chester Road, which first began trading in 1912, has been redeveloped into a 'total Ford experience', offering a glimpse into the future of the brand with particular focus on the technological advances made by the car manufacturer.

The completely redesigned showroom will showcase exclusive Ford products, including the New Mustang, Vignale and the US produced Ford Edge, and will guide customers through a highly sophisticated car customisation process.
The Ford concept stores are also working towards offering customers all Ford services, from Transit Centre, Ford Credit and Business Centre, and Ford approved used, all under one roof.
To celebrate its launch, Stuart Foulds, national franchise director for Evans Halshaw, welcomed Elena Ford, the great-great granddaughter of Henry Ford, alongside managing director for Ford UK, Mark Ovenden to officially open the new dealership.
Mr Foulds commented: 'It was a great launch event and we're delighted that the first new concept Ford store within Evans Halshaw is now open. We're now looking forward to sharing this with our customers and enabling them to experience all the new store has to offer.'

Whilst in the area and to mark the 50th anniversary of the Ford Transit van, Elena Ford and Mark Ovenden also unveiled a plaque at the new Evans Halshaw Ford Transit Centre in Preston, which began trading on April 15 this year.
MORE: Car Loan 4U hits the fast lane with Zuto rebrand
MORE: Confused.com launches a new partnership with Motors.co.uk
MORE: Download issue 87 of Car Dealer FREE to your iPad
On SuperUnleaded.com: Car Dealer Jumps Red Light, Instantly Face Plants Bus