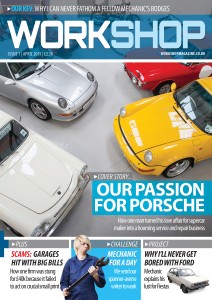 THE team behind your favourite motor trade magazine have launched an exciting new publication aimed at the workshop and bodyshop sectors of the automotive industry.
The first issue of Workshop is being sent out to 18,000 businesses this week.
Initially running inside Car Dealer, the quarterly publication will eventually become a standalone product in its own right.

With the same ethos and high-quality design as Car Dealer, Workshop offers readers a mix of fun and lively features, as well as in-depth analysis.
James Baggott, managing director and founder of Blackball Media, which publishes both magazines, said: 'Although Car Dealer is widely read throughout dealerships and bodyshops, the focus has always been more on the front end of the business.
'We believe that the workshop and bodyshop parts of the industry will benefit from a dedicated publication combining a balance of a glossy A4 lifestyle feel, fun and business.
'We will focus on the many different personalities as well as bringing readers all the latest informative views and news.'

The first Workshop will appear in April's Car Dealer. Features include a look at the latest changes to the MOT regulations and a scam warning to garages.
Future editions of the magazine will run in July and October's Car Dealer – which scooped the Best Business Publication in the Headline Auto Awards in 2012 and 2014.
Then, from January 2016, Workshop will be sent out monthly to a dedicated distribution list.
To advertise in Car Dealer and Workshop, call the team on 023 9252 2434.
MORE: Time is running out if you want to take part in Car Dealer Power
MORE: MG appoints new dealer in Exeter as demand increases
MORE: Jaguar confirms £400million investment in Coventry
On SuperUnleaded.com: 20 faces Jeremy Clarkson is probably pulling right now