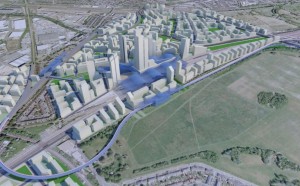 CARGIANT has appointed London & Regional as its development partner for the regeneration area Old Oak Park, meaning it now has enough funding to take the project through to construction.
Cargiant has operated from its site in Old Oak for over 35 years, with 700 members of staff it is one of the biggest employers in the area. The car vendor owns 47 acres of land in the area which it now plans to develop into a new London District.
The Mayor of London has also earmarked Old Oak as a regeneration site, to provide more housing and jobs, thanks to its location near Crossrail and HS2.

London & Regional has significant regeneration experience, and has been behind some of London's largest development schemes such as at Greenwich peninsula and West Ferry print works. In addition to extensive experience in this area, London & Regional also has the funding in place, and so is in a position to take the regeneration project through into construction.
DP9 has also been appointed to work along with London & Regional. DP9 are specialist planning consultants that have been responsible for bringing forward Earls Court and Battersea among many other large schemes in London.
With London & Regional and DP9 working on both the planning stage and construction, important continuity will be achieved and significant efficiencies generated. This will ensure that Cargiant's development of thousands of much needed homes in London is brought forward by at least 12 months, with a target of starting construction within two years.
Tony Mendes, managing director of Cargiant, said: 'I am delighted to have London & Regional and DP9 on board and look forward to working with their team. Cargiant has been part of the local community for over 30 years, and brings with it land, property expertise and local knowledge, and with London & Regional bringing along their development skills and extensive experience, Old Oak Park is destined to become a model community.

'London is in desperate need of more houses and The Mayor and the GLA are working hard to resolve the shortage. By appointing London & Regional at this early stage we will be accelerating the process of delivering our scheme and thousands of affordable houses for Londoners by at least 12 months.'
'Old Oak Park is destined to become one of the largest car-free and safest developments in London, with the needs of the local community at its heart. This development will encompass a large proportion of affordable homes for the local community with waterside living and access to the 170 acre Wormwood Scrubs Park, which is four times the size of Green Park.
'I am very grateful for the excellent initial stage work carried out by First Base and Lipton Rogers which has allowed us to get to this transitional stage quickly.'
MORE: Cargiant's pre-tax profit soars to record £30.2 million
MORE: Tonight's the night – the Car Dealer Magazine Used Car Awards 2014