A TEAM of eight employees from Close Brothers Motor Finance has successfully completed the demanding Ben Nevis Challenge in aid of the company's charity partner, Cancer Research UK. 
Together, they climbed 1,343m to the summit of Ben Nevis, before cycling 25 miles and canoeing across Loch Lochy, finishing the challenge in just over 11 hours. 
The team was aiming to raise £12,000 for Cancer Research UK and through donations and a number of fundraising activities, including a static bike ride covering the distance from York to New York, they were able to hit their target. 

Team captain Rob Richardson said: 'Completing the Ben Nevis Challenge has been a fantastic experience. We put a lot of effort into our training, but it was still really hard work and I think we were all glad to see the finish line by the end.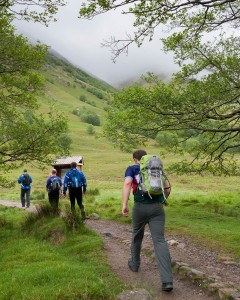 'There were a lot of tired bodies but it was worth it when you look at the money we have been able to raise. It has provided vital funds for a very important cause but it wouldn't have been possible without the support we've received.
'We'd like to thank Trust Ford, who provided a minibus to transport the team to and from the challenge and we'd also like to say thank you to everyone who made a donation – the generosity has been overwhelming.'
The eight employees who took on the challenge came from Close Brothers Motor Finance branches across the UK and included Adele Heatlie, Sam Harrison and David Grieve, who are based at the company's head office in Doncaster, Nick Delaney from Sheffield, Rob Richardson from Northampton, Neil Richardson from York, Laura Frak from Swindon and Mareta Davies from Northern Ireland. 

James Broadhead, CEO of Close Brothers Motor Finance, said: 'We're extremely proud of the team who took on the Ben Nevis Challenge. It took a lot of determination and endurance to complete and it has raised a significant sum for a great cause.
 'Cancer Research UK has been our charity partner for just over a year now and in that time we've raised almost £40,000 in total.'
 MORE: NFDA's Trusted Dealers teams up with Auto Trader
MORE: Renault and Dacia growth continues as new dealership opens in Wales
MORE: Blog: Five ways dealerships can drive more sales and leads
On superunleaded.com – Nissan Unveils Crazy 600bhp Juke R 2.0, We Want A Go