BRITAIN'S first contactless car vending machine was launched in London today by Auto Trader to offer motorists a haggle-free way to buy a new car.
A new study by the brand of 2,000 British motorists found that more than nine in 10 Britons (92 per cent) admitted they were bad at haggling when it came to buying a car and 89 per cent said they found haggling embarrassing and uncomfortable.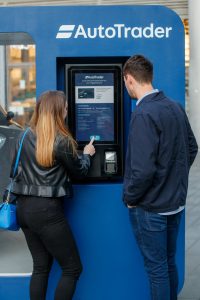 Haggling on prices topped their list of anxieties about buying a new car (41 per cent), along with hidden costs (39 per cent), worrying about making the wrong decision (28 per cent) and having to wait a long time to receive a car after buying it (25 per cent).

On the back of the research, Auto Trader installed the contactless car vending machine in Spitalfields Market, allowing purchases of up to £21,000 and showcasing how consumers can 'buy and go' without having to worry about any haggling.
A team of six engineers spent three months designing and building the contactless car dispenser. A custom-made point-of-sale system and key release function was created, alongside an integrated payment and door-release mechanism.
The installation features a new Renault Zoe from Lookers. Auto Trader said the Zoe was one of the most searched-for electric cars in the country, according to its data. In just the past month, there have been nearly half a million searches for electric vehicles (463,277) on Auto Trader.
The vehicle was available for £16,000 – against the recommended retail price of £22,470 – which was already agreed with the dealer.

Ian Plummer, commercial director at Auto Trader, said: 'Our key goal has been to highlight to consumers that they can search for brand new cars on Auto Trader and be presented with prices that they don't have to negotiate.
'Price transparency is a real pain point according to our 2019 Car Buyers Report, and we wanted to demonstrate that not only will consumers be able to buy a car haggle-free, but the price will be fully transparent too.
'The world's first contactless car vending machine was a unique and fun way to show how we are simplifying the process and our partnership with Lookers was crucial in proving how valuable our relationship with retailers is and that we're all going on a cohesive journey to make buying cars in the future more efficient for all.'
MORE: Auto Trader upgrades search rankings to deliver more quality leads
MORE: It's time to accept the decline of diesel, Auto Trader tells dealers
MORE: Dealer Auction joint venture between Auto Trader and Cox Automotive UK officially launches