IAN Robertson sits on the BMW Group board and is arguably the most senior Brit in the car industry. At the launch of the firm's new £132k M760Li, James Baggott managed to grab him for an unprecedented 40-minute chat about the firm's new hot 7 Series, Brexit and the future of the brand.
BEHIND us, V12 engines are on song, pounding around a sun-baked track in Palm Springs, California. Dr Ian Robertson, the man many have labelled 'the most powerful Brit in the car industry', is sipping black English tea and in good form, despite just jetting in long-haul from Germany on the company's private jet.
His eyes have the red tint of a man who hasn't spent the flight drinking champagne, but rather used the 11-hour trip as some bonus time to pore over figures. Robertson, who was awarded an honorary doctorate of science in 2011 by Aston University for outstanding service and achievements in business and engineering, is in charge of global sales and marketing for the German marque and is the brains behind the marque's 'i' electric car brand. He's also overseen a consistent march up the sales charts for the group's cars for several consistent years.

Relaxed in an M-branded polo shirt with an Austin Reed desert scarf loosely wrapped around his neck, he looks more PR man than BMW board member. A Welshman, originally hailing from Shropshire – 'My bank is still in Wales,' he proudly boasts – he has a distinct air of the politician about him. His answers are well thought through and vague enough not to be committal on the tough subjects, while positively gushing when he needs to be about his own products and company.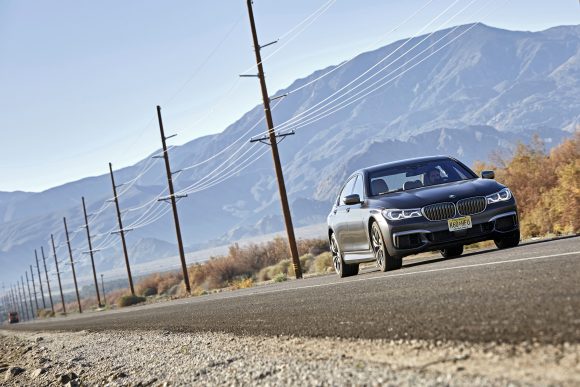 We're in California to try the brand's M760Li – a V12-engined 7 Series that will cost £132k and sell just 100 units a year in the UK. It's a juxtaposition compared with the electric, eco-friendly i models he is usually pushing, which must be a tough sell. Doesn't that muddy the messages?
'No, I don't think so,' he quickly retorts. 'We had a very good year on 7 Series last year. It was 30 per cent better than the year before – and that was a record year. The V12 segment is small – it's a few thousand vehicles in a car market of 19 million-plus. But the 7 Series is our flagship car and there should be a pinnacle vehicle within that flagship. It must capture the best of the best.'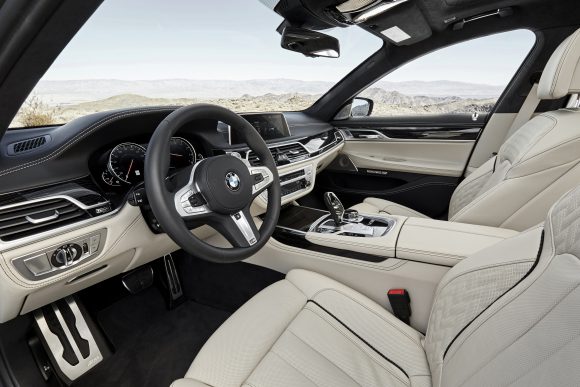 But, as lovely as the M760Li is, it's not really the car I'm interested in.

I'm far more interested in hearing Robertson's take on the bigger issues affecting the car industry at the moment. I quickly move the conversation away from the luxury saloons that are spreading rubber across the fry-an-egg hot tarmac a few yards behind us on to tougher subjects: tougher subjects such as Brexit.
BMW Group might be as German as Oktoberfest, but it has an incredibly large manufacturing footprint here in Blighty.
In Oxford, 4,000 employees build thousands of Minis every month and, just two years ago, BMW invested a further £750m in the set-up there, taking its investment to nearly £2bn.
The group also makes engines at Hams Hall and has an entrenched production facility for Rolls-Royce at Goodwood, where a further 1,500 employees work.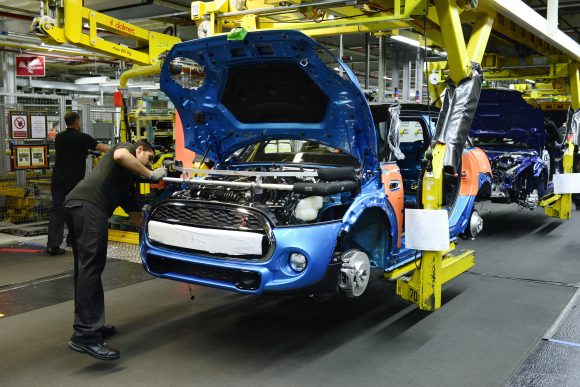 With investments such as this, I wonder if Robertson was invited to a special tête-à-tête with the prime minister, like Renault-Nissan CEO Carlos Ghosn was.
'I have not had a meeting with Theresa May,' he explains. 'I have not been invited to one either. But I have met many ministers recently and they have been reaching out to businesses like ours.
'Brexit was a surprise to us. At the moment, there is some uncertainty. If I look at our investment profiles in the UK, we have recently invested in Mini in the last two years – it is in the early part of its new cycle – and we have similar positions with our engine plant and in Rolls- Royce, so in many respects we now have time to see how things develop.
'We made our position clear in the run-up to the referendum. But the referendum is behind us, the result is known and now we have to find the best way forward.'
Robertson wrote to all UK employees ahead of the EU referendum laying out the company's reasons as to why it believed leaving the European Union was a bad idea, but we all know which way that vote went on June 23.
The BMW chief is clear that the UK remains a key market for BMW and that he sees 'no reason' why that would change post-Brexit. However, he still wants politicians to resolve trade agreements as quickly as possible so that they can get on with business as usual.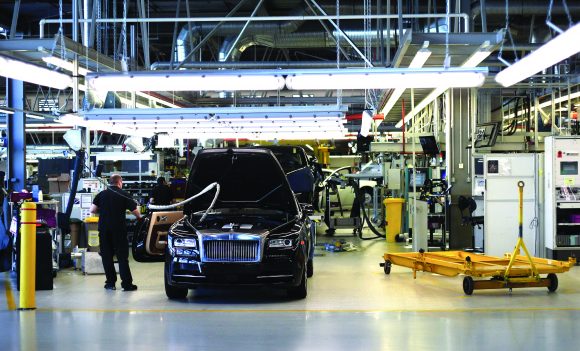 'The solutions and political answers need to be found,' he explains, still stirring his black tea. 'We have a period of uncertainty and that means we are probably going to be more flexible in things we have done in the past. We hope that there is a trade duty-free environment, but we'll see.
'The discussions are now in the hands of the politicians. We'd like to see clarity and that speed of clarity is important. It's not just a Theresa May issue, it's a Brussels issue and the other 27 members issue. I really hope that when all things are considered, the propositions, proposals and solutions are in the best interests of everyone.'
Listening back to the interview while writing this piece I have to rewind those sentences a few times. Did he commit to manufacturing in the UK or didn't he? It's that politician's answer that says so much but so little at the same time, so cleverly non-committal. A little later on I ask him again – is BMW committed to the UK?
'There's no reason to change that,' he says, again somewhat cryptically. 'We will see what happens as things develop.
'But we are at a very early point in the cycle of this investment, so we have time.'
Clearly, BMW is playing a waiting game. While Robertson explains that it's the brand's strategic plan to have manufacturing sites where sales are strongest, it's obvious that if trade agreements don't go its way, BMW may still change its plans.
So to more comfortable ground – the brand's sales success. Last year, BMW and Mini surpassed 250,000 units in the UK for the first time, clocking up 251,577 sales, while BMW was once again the number one premium brand. It beat Audi into second place, selling 5,289 more models, and Mercedes into third, beating it by 12,765 units. So just how important is it to be on top of the podium?
'It's not our number one focus, but it's a subject we often get asked,' he says. 'Would we stretch for the final sale and the ultimate volume at the expense of everything else? No, we wouldn't.
'We as a company have a very clear strategic goal and that is a return for our shareholders. Of course it is nice to be number one, but it is not our biggest driver.'
However, he agrees that the strong UK presence and its dominance of the sales charts is not something he'd like to give up any time soon.
He says: 'We sold a quarter of a million units for the first time last year. We have a very strong position in the UK and that isn't recent, that's been over many decades now. The customer base there is very loyal and we are developing products with the UK in mind. For example, many of the development phases of the new 5 Series were done in the UK.'
That rise in sales came at a time when the industry was awash with scandal. Fellow German manufacturer Volkswagen was embroiled in 'Dieselgate' and the toxic fog was in danger of engulfing other makers, with some experts even predicting diesel sales would fall across the board.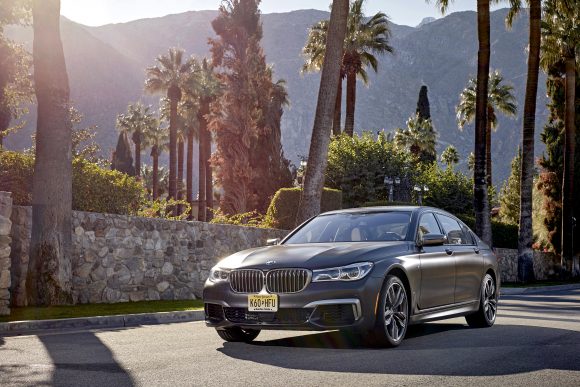 BMW has a strong diesel line-up and was one of those makers most at risk of consumers turning their noses up at the fuel – so did it affect the group?
'No, we didn't see a drop in sales,' explains Robertson. 'Governments around the world took our vehicles and tested them and we were always where we were supposed to be. Some other manufacturers didn't enjoy that position…'
But it isn't emissions scandals that concern Robertson these days. No, now he's focused on the brand's future – and its next 100 years.
We have enjoyed a lot of success,' he explains, checking his Omega watch as our time together goes on. 'We are 100 years old – not many companies get to that age. I think we have an exciting period in this industry right now, as I think every element from the design to the manufacturing of products to sales, to the ways customers enjoy our products is going to change.
'It will probably change more – and this is not a sound bite – in the next 10 years than it has in the last 100. One thing BMW has always done is push the envelope of technology and innovation. We are focused on looking forward. One of the success factors of BMW is that we don't celebrate the past, we challenge ourselves more and more. We'd rather say that was a good result but what could we have done better?
'So now we are focused on the technology race and the next big steps – digitalisation, autonomous driving, electrification and hydrogen fuel cells. The excitement in the company right now is the change that is coming through the industry and we want to be out there in front.'
Bold words, and words that come from a man who has already spent 38 years in the car business. Robertson certainly doesn't look to be slowing down any time soon. In fact, even when he's back in the UK he still takes the time to randomly visit dealers to check up on the service they're giving to customers.
Does he get recognised? 'Not all the time,' he chuckles.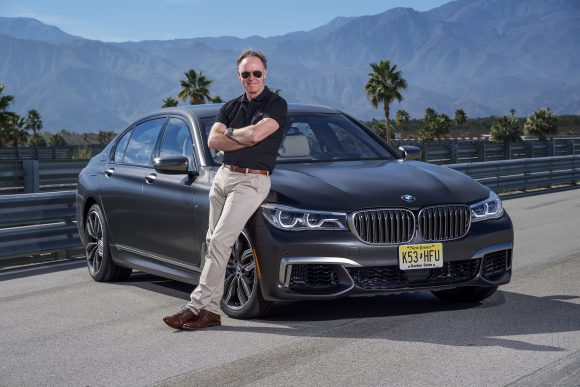 And what happens when they don't live up to his expectations? 'I am quick to give them feedback,' he adds, with a wry smile.
That said, he still sees dealers playing a key role in the car sales process, despite moves to take sales online. 'I talk to dealers all around the world all of the time and I say we are in a change process,' he explains. 'I firmly believe the dealer is the backbone of our relationship with our customer and that is the situation going forward.
'Having said that, the roles and responsibilities are going to change. Look at a simple proposition: 10 years ago, customers went into a dealership three or four times before they bought a car. Now maybe it's one. That's because customers are researching their cars online and getting their decision process done in advance.
'The role of what a salesman used to be is not the role that he will have in the future. We implemented product geniuses three-and-a-half years ago and across the world they are bringing more customer satisfaction and value, rather than what we had in the past where there was a position between a customer and salesman that wasn't ideal. The roles will change.'
The biggest change he sees will be in the workshop – an area he's highlighted as ripe for a shake-up. 'If I look at aftersales I see big changes there,' he says. 'We, as an industry, have been trying to refine this process which a customer probably never wanted. If I buy a car I want it to run, and I want it to run when I want it to run – do I want to go and have it serviced? Not really.
'So we will see the invisibility of service in the future. Which means the way in which cars are treated will change – some will be over the air, some will be mobile servicing. Right now I can open the diagnostics for any BMW, anywhere in the world, so why does a customer have to queue up at a dealership in the morning? The roles in the aftersales area will change. But those dealers that are moving forward with the success they have enjoyed will still have that success but they will be doing different things.
'My message to dealers is a simple one: Prepare for change, because it is going to happen.'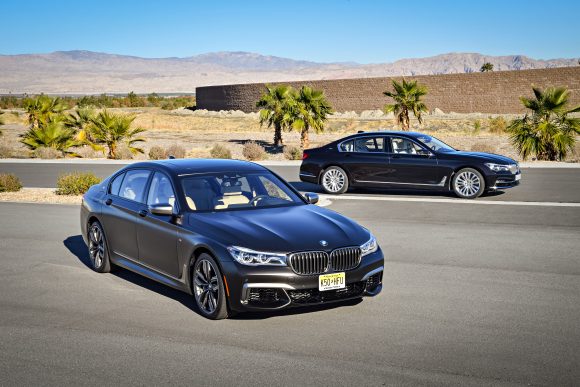 And with that, he drains the final cold swills of tea in his cup and gets up to shake my hand. His personal PR woman has been trying to interrupt me for the past 10 minutes and I know I've already got away with far longer than I should have. Robertson has to be back on his private plane, Munich is calling, as are probably many more sales reports.
I can't resist one last question, though: Does he love his job? 'Absolutely,' he says, launching into an answer that makes his time-conscious companion raise her eyebrows once more.
'I've been in this industry for 38 years and I've worked through some difficult times. In the UK I can say I saw the demise and then I played a small part in its recovery. I am immensely proud of this industry. It is truly global, there is never a dull moment, the competition is ruthless and the political environment is extremely challenging.
'That is the excitement. If you don't want that, if you don't want that constant challenge, if you don't want the "I wasn't expecting that" conversation, then you're in the wrong industry. I can look back on my almost 40 years and say there has never been a dull moment.
'Of course, there have been some low points, but the next day they started on the way up again and that's the fun of it. I wouldn't have it any other way.' And you know what? I'm inclined to agree with him.
MORE: CDX17: Four packed-out forums, 20 workshops and much more besides!
MORE: Suspended jail sentence for 'irresponsible' dealer who sold dangerous car
MORE: Car dealer ordered to pay £1,500 after duping 'naive' customer
On SuperUnleaded.com: Ferrari 488 GT3 gets wrecked in crash at Nurburgring