A CAR trader from Staffordshire who sold a dangerously defective vehicle has been handed a five-month suspended prison sentence and been ordered to pay £2,000 compensation.
Umar Khan, aged 40, of Uxbridge Street, Burton upon Trent, was sentenced at Stafford Crown Court after pleading guilty to two trading regulation offences and one product safety regulation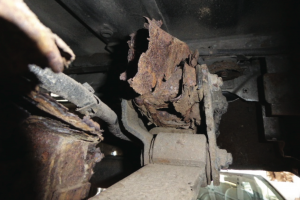 offence at an earlier hearing.
In February 2015, Khan sold a Nissan Navara through AutoTrader that was found to have major structural defects and severe corrosion. Khan had described the car as being in 'excellent condition throughout' when he sold the car for £5,050. He traded as UK Motors from his home.

Staffordshire County Council's trading standards team, which brought the prosecution, secured a report which stated that the vehicle was dangerous and unroadworthy.
The five-month sentence is suspended for 12 months. In addition, Khan was ordered to pay £3,500 costs, an £80 victim surcharge and a £150 fine and compensation of £2,000 to the purchaser of the car.
Gill Heath, Staffordshire County Council's communities leader, said: 'This is a serious offence which could have put lives at risk and it is fortunate our trading standards team was able to intervene.
'Attempting to sell a car in such a poor and dangerous state demonstrates a complete failure of responsibility.'

MORE: Man arrested over £100,000 arson attack on Citroen showroom
MORE: PM's single market announcement 'threatens UK car manufacturing'
MORE: Top Kia dealers are rewarded for their outstanding achievements
On SuperUnleaded.com: Ostrich runs wild on Mexican motorway