DID you go to this year's Festival of Speed at Goodwood? Have you been in previous years?
And have you ever wondered how the heck they get that massive central feature outside Goodwood House to stick in the ground?
This year's effort was a 35-metre high sculpture with two cars perched at the very top – the 1991 Le Mans-winning number 55 Mazda 787B and a concept racing machine. And yes – they were real cars, and it was the actual car Johnny Herbert drove to victory at Le Mans in 1991.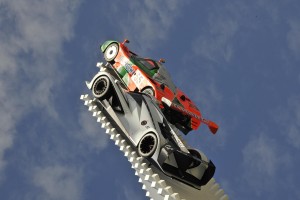 So Mazda produced this video, telling the story of the sculpture, its creation and its construction. The whole construction is 40 metres long but because it twists and turns it stretches 35 metres into the sky, weighs 120 tons – the equivalent of 120 Mazda MX-5s – and holding everything together are 418 steel tubes, which, if laid end-to-end, would stretch 1.16-miles – the length of the Festival of Speed hillclimb.
See for yourself….
MORE: Perrys starts work on new £7 million dealership 
MORE: Celebrate the used-car industry with us at our Used Car Awards – have fun and meet up with old friends

MORE: CitNOW Video Awards winners announced
MORE: Family firm joins Renault-Dacia network
MORE: Brayleys expands with second Kia dealership
On superunleaded.com – Tractor Wheeled Drag Race Bikes Are The Weirdest Thing You'll See All Week