Jack Evans takes the new JCW for a spin on a sunny spring day and finds it much more grown-up than its predecessor.
What is it?
The Mini Convertible has been popular since its first incarnation in 2004. The John Cooper Works Convertible is a more serious affair, throwing top performance and a more involving ride into the mix. Maintaining that important fun factor is at the heart of the Mini ethos, but has the big-boy power outputs taken that away? We find out.
What's under the bonnet?
The John Cooper Works Convertible uses a 2.0-litre turbocharged petrol engine, taken from the Cooper S. It produces 228bhp and can power the convertible to 62mph in 6.6 seconds — three tenths of a second slower than the hatch. That's down to added strengthening to maintain rigidity. Combined consumption is 43.5mpg and CO2 emissions are 152g/km.

What's the spec like?
Sitting at the top of the Mini range, the JCW Convertible gets a smattering of bells and whistles. Sport seats and a large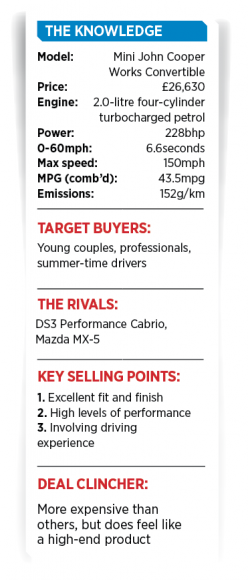 central display with a chequered flag effect distinguish the JCW from the standard hatch. These seats are supportive and comfortable, though the same can't be said for those in the rear. Only small children will fit here — even the slightest of passengers will have squashed knees. Another fault is the main arm rest — when changing gear your elbow bashes it whether it is raised or lowered. A Union Jack design can be specified for the soft-top, which takes 18 seconds to raise or lower. It feels like a premium product — but it should for £26,630 without options.
What's it like to drive?
Minis have always traded on the go-kart feel of the handling and it's pleasing this hasn't been lost in the JCW. Yes, it's easy to feel the car's additional weight at times, especially when getting on the brakes at speed. It's also firmer than the standard Cooper S, so it tends to crash into potholes. Despite these foibles, the sense of fun is still there. The engine note is addictive, with all the pops and crackles you'd want in a hot hatch and, with no roof, it's even easier to enjoy. How do those two front tyres deal with all the added power, though? Not brilliantly, as the added grunt causes them to squirm under hard acceleration.
What do the press think?
Auto Express said: 'The hottest open-topped Mini is a little costly, but for small-car thrills on a sunny day it's hard to beat.'
What do we think?
The JCW Convertible is pricey but its sense of quality and desirability shouldn't be undervalued. It's a much bigger and more grown-up car than its roofless predecessor and so appeals to a more mature audience. It may not be as good value as rivals, but it's got that all-important smile factor that convertible drivers seek.