Dave Brown tested the Hyundai i20 Active – a foray by the Korean manufacturer into the small crossover market. What did he think?
What is it?
We certainly love our crossovers here in the UK – but while we're attracted to their chunky, go-anywhere styling, not too many of us actually go off-road. That certainly seems to be the thinking behind the new Hyundai i20 Active, which the manufacturer can fairly state combines a new, rugged design with the space, style and quality of the i20 five-door. So, it's small and smart, designed to appeal to a booming sector of the market – and it's got a new downsized and turbocharged engine.
What's under the bonnet?
The i20 Active is only available with Hyundai's new three-cylinder 1.0-litre T-GDi 99bhp engine. The car offers reasonable performance with modest running costs and boasts combined fuel economy of up to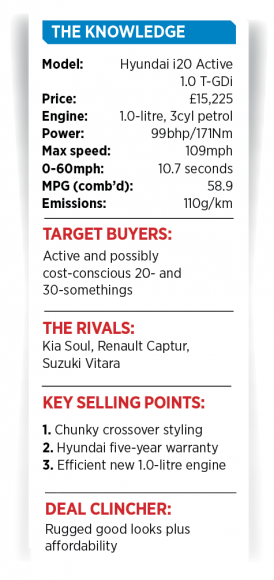 58.9mpg and CO2 emissions of just 110g/km. And the car has been designed to be fun to drive too – its three-cylinder unit features direct petrol injection and a compact turbocharger matched with an electrical wastegate actuator, helping the engine and turbo work as efficiently together as possible.

What's the spec like?
There's certainly lots on offer. Key to the Active's appeal will be its outdoorsy exterior appearance. External features include front and rear bumpers with integrated skid plates, circular fog lamps front and rear and a good-looking rear spoiler. There's plenty inside to make life convenient and comfortable too, such as a DAB radio, parking 
sensors, cruise control and 
Bluetooth with voice recognition.
What's it like to drive?
We thoroughly enjoyed testing the i20 Active on a range of Cotswold 
A and B roads. The engine is 
responsive and ready to do whatever's required of it. There's a bit more body roll than on the standard i20 and the suspension has been firmed up a bit. The seats are comfortable and supportive, 
visibility is excellent, the tech is found easily to hand and the whole package feels very accomplished.
What do the press think?
The Mirror said: 'The i20 Active is a handy addition to Hyundai's catalogue, but what the company really needs is a proper crossover that costs around the same money.'
What do we think?
The B-segment is a notoriously crowded part of the UK car market, and the i20 generally isn't short of rivals – and well-established ones at that. But Hyundai's profile is increasing all the time in the UK. It's been lacking a crossover-based offering and this car could be just what the doctor ordered. It should do well for the brand – and you – if your customers want SUV looks but don't want to spend the earth or actually drive over it.

MORE: Handbook: Suzuki Vitara S
MORE: Handbook: Volvo XC90 T8
MORE: Handbook: Kia Sportage
On SuperUnleaded.com: Utter Madness Unfolds As A Biker And Motorist Come To Blows