CLICK Dealer's director and head of customer care has had to pull out of a charity boxing match she was due to take part in after suffering injuries during training.
Pippa Rawlinson, pictured, had spent the past few months training for a white collar boxing match, which was set to take place on Saturday, March 24 at Stoke City's Bet365 Stadium to raise funds for Leighton Hospital's Ward 17, where her son Jude received successful treatment for meningitis a year ago, shortly before his second birthday.
However, during a recent sparring match as part of her training, Rawlinson suffered a significant tear to a bicep, as well as damage to her shoulder ligaments. She had wanted to go ahead with the fight regardless, but doctors instructed her to take a period of rest and recuperation.

Down but not out, Rawlinson is adamant that this will not be the end of her fundraising for Ward 17, and she already thinking about other ways she can raise money for the hospital.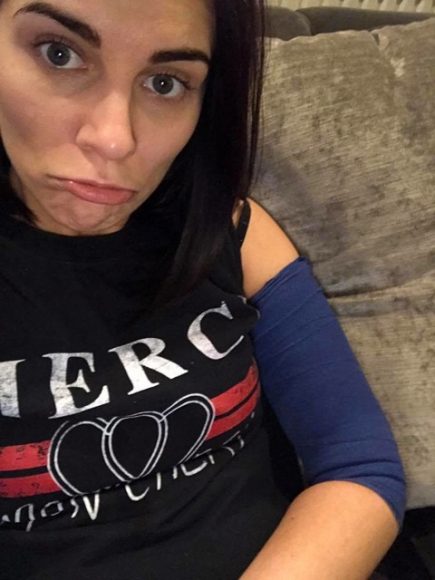 'I'm determined that it won't stop me from raising funds for Ward 17,' she said. 'The work that they do is incredible, as I've witnessed first-hand.
'I will be coming up with another event of some sort. There are a few ideas in the pipeline at the minute, and once something is organised, I'll be sure to let everyone know.
'I'd like to give a big shout-out to my awesome personal trainer, Darren Clacher, who has been training me alongside the formal boxing classes Ultra White Collar Boxing supplies for the fighters. Darren has put in so much hard work with me, he was just as gutted as me when I phoned him to inform him of my injury.'

Meanwhile, other charity champions at Click Dealer have more events planned, including a third Born Survivor challenge, sky diving and a five-a-side football tournament. Donations to Click Dealer's fundraising efforts for Ward 17 can be made here.
MORE: Click Dealer director Pippa to pack a powerful punch for children's hospital wing
MORE: New tool from Click Dealer gives access to dozens of online review platforms
MORE: Lookers hands over support vehicle to charity for coastal trek
On WorkshopMagazine.co.uk: H.R. Owen Bodytechnics wins official Lamborghini accreditation