THE latest edition of Car Dealer is ready to be downloaded to your iPad – completely free of charge!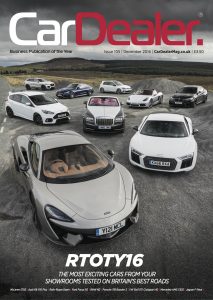 This month our team has been sequestered in North Wales, trying to work out which is the best new car of 2016 for our Road Test of the Year.
This 29-page feature celebrates the greats of the car industry over the last year, as our panel argued for five days over what car represents the pinnacle amongst offerings from Audi, BMW, Ford, Jaguar, McLaren, Mercedes-AMG, Porsche, Rolls-Royce and Volkswagen.

We've been motoring at the other end of the scale too, with the annual Bangers4BEN charity rally.
Getting back to nature, our office animals Jon Reay and Laura Thomson modified a barely-roadworthy Ford Ka to take part in a drive to Ferrari's HQ in Maranello and back in a cavalcade of £750 jalopies, with the various heaps auctioned off at BCA for the motor industry's Ben charity.
New cars on test this month include the Ferrari California, Audi R8 Spyder, Citroen C3 and Ford Ka+, while SsangYong's latest Musso pick-up is assessed to see how it stacks up to pricier rivals.
With the usual, indispensible legal advice from our friends at Lawgistics and contributions from our regular columnists such as Big Mike, James Litton and Ben Garside, issue 105 is a must-read.

MORE: It's the fastest seller again! Three in a row for Ford Galaxy
MORE: Now driverless cars can tow other vehicles!
MORE: Jaguar F-Pace worries Audi as it launches new Q5
On SuperUnleaded.com: Here's How Twitter Reacted To The Grand Tour: Episode 3