THE latest edition of Car Dealer is now ready to be downloaded to your iPad – free of charge!
It's quite a significant issue for us as it's number 120, marking 10 years since the launch of the magazine – and it's certainly a packed publication!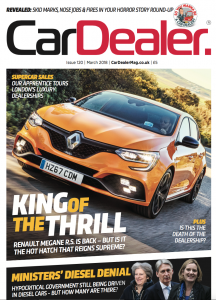 A freedom of information investigation carried out by the Car Dealer team has revealed that Government ministers are still in thrall to diesel – despite being accused of 'demonising' the fuel. You can read more here too.

We tour the supercar dealerships of London – with our apprentice Ted Welford trying to drop in on as many as he can in a single day – and we have the latest news of what will be happening at CDX – the largest automotive expo of its type in the UK – on May 21 and 22.
What else? Well, we have a very busy road test section, with the Audi A7 Sportback, Infiniti QX50 and Renault Megane R.S. (pictured) all coming under the spotlight – and there's also a look at Bitcoin – the 'crypto-currency' that has very much been in the news lately – and what it means for dealers.
Free in the bag with your copy of the mag will also be your 2018 Suppliers Guide – an indispensable standalone publication that you'll want to keep somewhere handy for the next 12 months. With 60 packed pages, it's the biggest Suppliers Guide yet.
With our regular columnists including Big Mike, James Litton and Rebecca Chaplin, a useful guide to finance and another helping of legal advice from our friends at Lawgistics, issue 120 of Car Dealer is not to be missed!