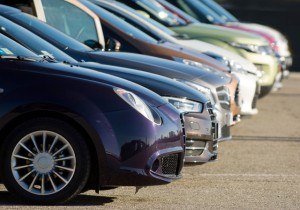 THE first new car registration figures of 2015 are in – and they show a total of 164,856 cars were registered during January.
The figure was released this morning by the SMMT and represented a 6.7 rise in the number of registrations – and the strongest January performance since 2007.
Today's stats also show that the record growth period for the whole market is continuing – January marked the 35th consecutive month of rises.

Mike Hawes, SMMT chief executive, said: 'These figures mark an encouraging start to the year after a very strong 2014, with a strikingly robust company car market as businesses take advantage of the attractive finance offers currently available.
'January saw increased uptake of both petrol and diesel cars, while demand for alternatively-fuelled vehicles continued its surge with registrations rising by 60.8 per cent. Registrations of plug-in vehicles were particularly strong as consumers responded to a greater choice of makes and models delivering lower running costs.
'Last year's 9.3 per cent rise in the overall market was fuelled by stronger-than-expected economic confidence and, for 2015, we expect to see some levelling-off throughout the year: demand is back to pre-recession levels following record-breaking growth.'
As Hawes indicated, the figures revealed particularly strong growth in the area of company car registrations, up 18.1 per cent on January 2014. And in fact, fleet registrations have been increasing consistently since 2012 as UK business confidence has bounced back since the recession. Just 882,415 cars were registered to fleets in 2009; this grew to 1,178,416 in 2014.

Currently, the strong pound means that manufacturers can offer attractive finance packages to fleet buyers in the UK.
MORE: Toyota expecting record profits of £15bn
MORE: Dealership takes customer service to a new level
MORE: Glyn Hopkin officially opens new dealership in East London