CAR dealership Lookers has revealed tumbling annual profits, but cheered resilient sales amid 'difficult' trading as demand for new cars fell for the first time in six years.
The group posted a 27 per cent drop in annual pre-tax profits to £58.4 million for the year to December 31, 2017 and cautioned over further wider market falls in new car sales in 2018 after a 5.6 per cent fall last year.
The decline in new car sales across the market was the first fall for six years after demand hit an all-time high in 2016. Sales have fallen amid confusion over government restrictions on diesel vehicles, rising inflation, reduced availability of credit and low consumer confidence.

But Lookers said it put in a 'robust' performance, with sales outperforming the market and underlying pre-tax profits actually lifting by five per cent to £68.4m as better used car sales helped revenues jump 15 per cent.
Bottom-line profits were largely affected by a one-off boost in 2016 from the sale of its parts division.
Andy Bruce, chief executive of Lookers, said: 'This result represents a positive performance against a backdrop of difficult trading conditions across the motor sector, particularly in the second half of the year.
'The order book for new cars in the important month of March is in line with our expectations, and whilst the new car market for this year is forecast to reduce, it is still at a historically high level. We expect to make further progress over 2018 with good momentum in used cars and aftersales and a resilient performance in new cars.'

Shares lifted more than one per cent after the results.
Bruce added: 'We have delivered a robust set of results with good growth across all areas of the business, demonstrating the resilience and differentiation provided by the Lookers business model.
'Against a backdrop of a 5.6 per cent dip in the new car market, we have seen strong momentum in used cars and aftersales. We have made good progress with our strategy over the year and remain focused on having the right brands in the right locations, combined with excellent execution that gives our customers a personal, relevant and multi-channel retail experience.
'We have managed our portfolio of dealerships to reflect this goal and our franchise representation is well positioned for the future.'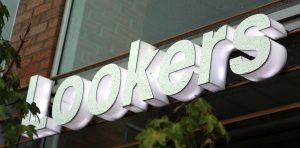 Chief operating officer Nigel McMinn told Car Dealer Magazine: 'The thing that's most pleasing about last year's results is that motor dealers are more resilient than sometimes we give them credit for, and even in a challenging market our net profits still moved forward.
'New car volume is only one of many key metrics that drive the results in our business and aftersales were strong and used cars were 15 per cent up in gross profits like-for-like. We've been able to actually grow our profits in a declining market and it's quite helpful for the whole sector to be able to prove that motor retailers have a lot more to them than just new car sales.'
Referring to the disposal of the parts division, which he said had given an 'exceptional distortion' to the figures, McMinn stressed that Lookers' underlying performance was stronger this year than it had been the year before.
'Everyone assumes that when the new car market is down there's going to be some awful crash in retailers' profits but I think we're living proof that it is a resilient model that's got many legs to it.'
Looking to the year ahead, he added: 'We're positive that we can counter any headwinds that come our way through new car volume. We obviously had to experience a drop in residual value of diesel cars last year, and we expect that in consumer confidence perhaps a little bit in diesel residual values and perhaps certainly in the first quarter with new car volumes there will be some headwinds, but we feel we've got enough in the tank to counter that and still continue to grow.'
And he highlighted the strength of the group's balance sheet, which he said was 'very robust' and 'strong', which he said 'in any market is good, whether that's for further expansion or just preserving cash well within our facilities'.
McMinn added: 'We continue to be positive about the whole sector, therefore we invest in our websites, technology, customer experience and people.'
Lookers – which has 155 franchised dealerships – posted a three per cent rise in like-for-like new car sales as it outperformed the wider market, while used car sales surged 13 per cent.
It saw continued demand for aftersales, which represents the largest proportion of the group's business, with comparable sales up four per cent and gross profit three per cent higher on a like-for-like basis.
The group cautioned that the current Brexit uncertainty and weak pound were 'unhelpful' to the under-pressure car market.
'We also have to remain aware of consumer confidence levels and the pound-euro exchange rate, both of which could have an impact on our business, so we continue to plan prudently for the business, mindful of these external factors,' it said.
Recent figures from professional services consultancy Begbies Traynor showed levels of financial distress among car dealerships rocketed by 35 per cent at the end of 2017 amid flagging sales and worries over the future of diesel.
Many chains have also been hit by sky-high increases in business rates following last year's revaluation.
Rival car dealership Vertu Motors warned over profits in January as it saw sales of new cars plunge by 13.2 per cent in the final four months of 2017, with a 3.2 per cent drop for used cars.
Pictured at top is Lookers' Land Rover showroom in Colchester
MORE: Lookers hands over support vehicle to charity for coastal trek
MORE: Top Mercedes-Benz accolade for Lookers Group Kent
MORE: UK car market is 'softening' says Lookers as it publishes results
On WorkshopMagazine.co.uk: March set to be record month for MOTs