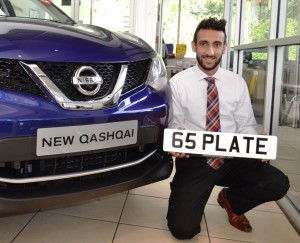 IT'S one of the two biggest days of the year in any car dealership's calendar – the day the registration plate number changes – and many showrooms across the UK held special midnight handover events early today.
The Peter Vardy BMW and Mini dealership in Edinburgh was among those welcoming buyers to its showroom as the clock struck 12 to mark the arrival of cars bearing the 65-plate.
The team took to Twitter to share details of the occasion.

Our MIDNIGHT HANDOVER has begun! pic.twitter.com/MjWLHBwMic

— Peter Vardy BMW (@PV_BMW) August 31, 2015
At Harold Wood Audi, Essex there were celebrations galore as customers hit the road in their new vehicles…
#Audi #MidNightHandover #65plate @essex_audi @AudiUKSalesInfo pic.twitter.com/OyrACQQaMS — Harold Wood Audi (@HaroldwoodAudi) August 31, 2015
… with customers tweeting the business to let the team know how pleased they were with their purchases.
A big thank you to @HaroldwoodAudi for my new TT! I absolutely love it!! 😍😍😍 #audi#65plate#midnighthandoverpic.twitter.com/IPvyxksa3r

— Tan (@MissNailsEssex) September 1, 2015
Meanwhile, staff at Wessex Garages are predicting strong sales of the 65 number plate after a successful past six months.
New car sales have been running 13 per cent ahead of the same period last year at the business, which has outlets in Bristol, Cardiff, Gloucester and Newport.

And the company has reported motorists are ordering new vehicles in their droves this year and sales of September registrations are looking rosy.
Keith Brock, managing director of the company, said: 'So far this year, we have had a great response from our customers regarding the purchase of new vehicles and predict this to continue in September with the new 65 number plate.
'Our pre-orders for September are on track and we think new car buyers have never had it so good. There is so much choice as well as discounts and offers to be had.'
Our picture shows Gavin Hayer, sales executive at Wessex Garages, with a Nissan Qashqai.
MORE: Lookers buys Amersham Jaguar from Jardine Motors Group
MORE: Marshall Motor Group among the best places to work in the UK
MORE: EDT Automotive appoints new national sales manager
On Superunleaded.com: Driver's tug-of-war battle with tow truck is immense