FIAT Chrysler Automobiles' flagship London retailer Motor Village UK served up a cocktail of support for new restaurant Harry's Bar.
Based in James Street and set in glamorous 1950s-style surroundings, the restaurant offers various Italian favourites, and to mark its opening on Wednesday, a stylish trio of Fiat 500s from Motor Village toured the capital while adorned with special livery announcing its launch.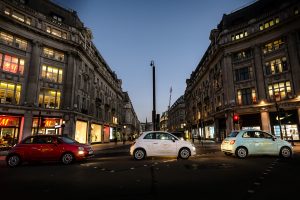 Lisa Ford, managing director of Motor Village UK, said: 'All of us at Motor Village are proud and excited to be associated with Harry's Bar.

'The fit is perfect for us in terms of Harry's Bar's close proximity and for the fact that we both celebrate some of the best things that Italy can offer – superb food and outstanding cars. I look forward to the coming months working again with Harry's Bar.'
Motor Village UK's Marylebone showroom was created in 2008 with highly fashionable exhibitions, displays and receptions in the plans, as well as the ability to showcase and sell FCA cars in a modern and high-tech setting.
MORE: Motor Village UK hosts David Bowie art exhibition homage
MORE: Motor Village UK is made official car partner for Harvey Nichols' winter campaign