WITH THE online research by motorists for car maintenance services growing by the week, the AA has responded with the launch of the AA Garage Guide, today.

The AA Garage Guide is an online search and booking tool that assists car-owners in the locating of local franchise dealerships and independent garages in the UK. Its unique selling point is that, unlike established platforms, it ranks dealers and garages by quality and standards, instead of the price.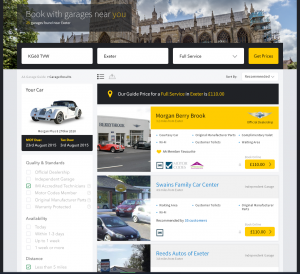 This honest approach to online garage search and booking is a result of AA research, showing that nine in ten AA members consider trust and reliability to be more important than price when choosing a dealer or garage.
Companies are not required to have a subscription or listing fee to be included on the Guide, but all must be verified first.

Once included, firms must pay a low flat fee per accepted booking. Of particular interest is the ability for companies to select precisely what type of work they want, saving resources otherwise exhausted by following up inquiries regarding work they cannot or will not provide.
Lucy Burnford, co-founder of AA Garage Guide, said: 'The platform is something we feel will really appeal to, and benefit, both the industry and the millions of UK motorists.'
MORE: VW chief executive 'could lose his job over emissions scandal'
MORE: Sports cars destroyed in garage blaze

MORE: Part-ex wobbles could sour record September, retailers are warned

On SuperUnleaded: The BAC Mono Marine, The Car Only Super Rich People Need