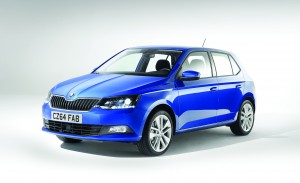 THE new Škoda Fabia should appeal to older customers plus a wave of younger buyers, says Škoda brand director Alasdair Stewart.
The upcoming supermini should grab the attention of buyers who wouldn't have previously considered the Fabia, thanks to its sharp new look and the option of contrasting colour roofs, he added. It's not just style that's going to attract people to Škoda showrooms, however.
Stewart said: 'What's really important in this part of the market is that we also get the right finance programmes running, the right PCP terms and make sure that's there's value left in the car for the customer after the end-of- finance deal with strong residuals.'

He continued: 'We might not be 0 per cent but we'll certainly be looking at attractive interest rates. After all, it's a new car. We understand that it's necessary to launch with offers and particularly with good finance support, but we're hopeful we're going to get a good surge of orders on the new car.'
The Fabia isn't the only new model in the pipeline. Stewart revealed that next year's new Superb will be 'radically different. We'll have to see if that attracts some of the hybrid technology.'
The Škoda boss also noted that 2014 sales to date were running at 21 per cent above last year, with profitability currently standing at around two per cent return on sales and dealers putting away £185,000 to £190,000 profit on average per retailer – up by nearly 60 per cent from 2013. The top 25 per cent of the network are earning around 3.5 per cent return on sales, continued Stewart, although dealers are having to spend £150,000 to £200,000 on average to update their showrooms to Škoda's new format.
MORE: Why I joined Car Dealer Club: Lawgistics were just so helpful

MORE: Handbook: Skoda Octavia Scout
MORE: Volkswagen sets delivery record of five million for January to October