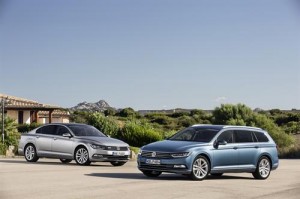 VOLKSWAGEN has set a new delivery record for January to October this year, handing over more than five million vehicles to customers for the first time in the company's history.
The total reached 5.08mil vehicles, beating last year's deliveries of 4.95mil in the same period. This represents an increase of 2.6 per cent.
At 517,400 units, deliveries by Volkswagen Passenger Cars in October were almost on a par with 2013, down only 0.4 per cent, despite very volatile markets.

Christian Klingler, Board Member for Sales and Marketing for the Volkswagen Group and the Volkswagen Passenger Cars brand, said: 'Deliveries bythe Volkswagen Passenger Cars brand developed satisfactorily in the period to October – even though conditions in some regions were at times uncertain. Developments in Western Europe, where the new Passat will go on sale in the coming weeks, remained positive. As a result, we are on track to deliver more than six million vehicles for the first time.'
Volkswagen Passenger Cars delivered 1.4mil vehicles on the overall European market from January to October, up 2.7 per cent, of which 719,500 units were handed over to customers in Western Europe – excluding Germany. There was also a rise in deliveries to Volkswagen's home market of Germany, where customers took possession of 483,500, up 4.2 per cent, vehicles in the period to October.
Deliveries in Central and Eastern Europe continued to decline as a result of uncertainty in the region. There were 200,500 units were handed over to customers there in October, down nine per cent. The worst performing region was Russian, where the company delivered 103,100 down more than 20 per cent.
MORE: The only way is upmarket, says Peugeot chief

MORE: Help us mark our move to new premises, says Burton dealership
MORE: Mid-term Update: Top 100 Most Influential Dealers on Twitter