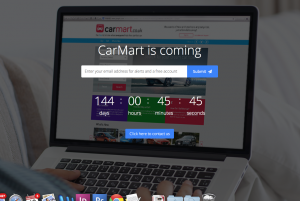 A NEW car sales site which it says is designed to rival Auto Trader is about to launch – and is the brainchild of the man who used to run the publishing business responsible for the Auto Trader magazine.
Steve Edwards is the former CEO of Hurst Publishing, the business formed by Sir John Madjeski to launch Auto Trader.
He has announced the imminent launch of CarMart.co.uk, a new free-to-list car sales site.

Edwards worked with Auto Trader before moving to Daily Mail and General Trust's regionals Northcliffe to launch rival auto magazines.
The new site and mobile app are due to go live on August 1 to provide sellers with a free listing service in a bid to create a market alternative to Auto Trader. The site will encourage the public and, later down the line, traders to register on their website  to set up a lifetime free account.
Edwards said: 'The car-listing sector has been dominated by a single player who has been hugely successful in migrating from print to web while commanding the very high listing prices more often associated with printed editions. Our site, due to launch on August 1, will be completely free of charge and will offer even more search features to car buyers looking to find exactly the right purchase.
'We're already seeing a massive interest and we expect to be listing in excess of 400,000 vehicles by the end of the year. The mobile app and website will enable buyers to perform advanced searches for vehicles, with features and technology yet to be seen on any other car listing sites. To compete with a well-established market leader like AutoTrader requires a very special USP and you can't get much more unique than offering a free service.'

Robert Nisbet, a former publisher and digital media entrepreneur who founded the magazine App platform Apazine, is now working with Edwards to head up the development of the technology. He said: 'Our developers are working hard to finalise the systems and technology. We're aiming to offer the best available web experience for buyers while delivering a free service to sellers. It's amazing to see the  interest in our site already, the volume of pre-registrations on our website is most encouraging.
'We're not planning to plaster the site with adverts or distractions. We want to ensure the whole experience is positive and immersive. The new site will synchronise with social media outlets such as Facebook and Twitter accounts and will bring finding a used car firmly into the 21 century.'
MORE: Mixed picture on car finance volumes
MORE: Boost on the way for RAC's Approved Dealer network