New car registrations figures for August were down 5.8 per cent, says the SMMT – as predicted by Car Dealer earlier this week.
New car sales – which rebounded in July up 11.3 per cent – dropped in August to 87,000 units.
Private car demand was down 1.7 per cent in August, with fleet down 5.5 per cent.

In August 2019, 92,573 new cars were registered. However, insiders say the underlying picture is one of growth as last year a large number of cars were registered because of emissions rules.
EU legislation meant a number of cars had to be registered before August 31, 2019, and this inflated the month to an unusual level.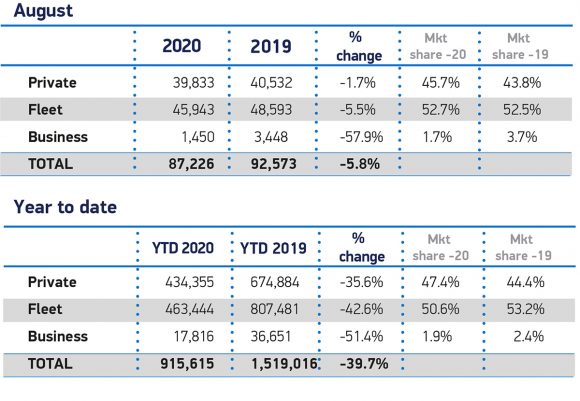 August is also traditionally the quietest for new car registrations as customers hold out for the new registration plate on September 1.
The fact this August's drop is only marginal and comes off the back of a pandemic and tough economic climate will be seen as a win for the motor trade.

Mike Hawes, SMMT chief executive, said: 'The decline is disappointing, following some brief optimism in July.
'However, given August is typically one the new car market's quietest months, it's important not to draw too many conclusions from these figures alone.
'With the all-important plate change month just around the corner, September is likely to provide a better barometer. As the nation takes steps to return to normality, protecting consumer confidence will be critical to driving a recovery.'
The best-selling car in August was the Ford Fiesta (3,372), followed by the VW Golf (2,570) and Ford Focus (2,391).
So far this year, the Ford Fiesta is the biggest-selling car with 29,891 models sold.
New car registrations were down 97.3 per cent in April, 89 per cent in May and 34.9 per cent in June.
All eyes now turn to September, which many in the motor trade are predicting could be the biggest month for registrations ever.
Marshall Motor Group boss Daksh Gupta and Vertu Motors chief executive Robert Forrester have both gone on the record to predict this September 70-plate change could be huge.
However, there are concerns that the supply of new cars could restrict performance as many manufacturers struggle to meet demand due to factory closures during lockdown.
Auto Trader director Ian Plummer said: 'Traditionally, August is the quietest month for new car sales. While, on the surface, negative percentages can be concerning, in the context of such a small month this drop in new car registrations is only very marginal in terms of actual sales volume.
'A number of our retail and brand partners had already reached their targets mid-way through the month, with good levels of natural order take, so there was little inclination or need to push sales activity.'
Plummer said Auto Trader traffic points to a bumper September, though, with traffic up 30.5 per cent on last year on its website.
He added: 'The only key concern we can see would be whether supply can match demand as manufacturers still aren't back at their normal levels of production.'
This post was originally published on September 2 at 2.53pm and updated at 11.10am on September 4.
New car sales up 11.3 per cent in July