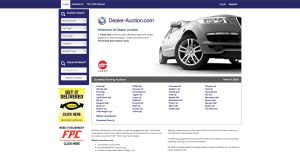 DEALER-AUCTION.COM, the UK's largest trade-only auction site for franchised dealers, has launched its new, fully mobile website.
Dealer-Auction.com sells vehicles for more than 600 franchised dealers in the UK to carefully-vetted, professional motor traders.
The company has come a long way in the six years since its formation and is a respected and award-winning business. Its achievements were recognised at last year's Car Dealer Power Awards, where the firm was named trade-to-trade remarketer of the year.

The auction environment, which runs 24/7, is now fully mobile which enables buying and selling from any location. Some of the new functionality provides dealers with the ability to upload unlimited photographs, and to add more information to vehicle listings.
Gavin Smith, managing director of Dealer-Auction.com, said: 'The new site offers some great new functionality. Both sellers and buyers will benefit from the quicker, crisper and overall, vastly improved website.
'One of the most important updates is that the website is now a fully live system, pushing information to the user, meaning that they always see the most up-to-date information without having to refresh the page constantly.'
Dealer-Auction.com is part of the Manheim group.

MORE: Auto Trader – now is the ideal time for us to be joining the stock market
MORE: Suzuki Celerios being returned to customers after safety recall
MORE: Euro NCAP awards four stars to new Audi TT after watchdog controversy