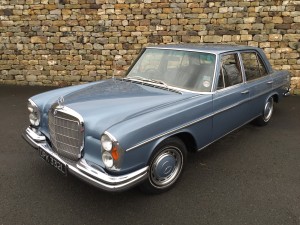 BACK in the early 70s, if you wanted a luxurious saloon there were really only two serious options – Mercedes or Jaguar. BMW had only just progressed from making tiny three-wheelers and Audi had only just emerged from the NSU name.
Jaguar made svelte-looking cars with great engines, but by this time their build quality was starting to suffer.
Mercedes, on the other hand, were in their heyday, making rock-solid cars with cutting-edge technology.
By the early 70s the fintails had all but disappeared, replaced with a less-flamboyant but equally-attractive design. The W108 was a big step forward in luxury and the top-of-the-range model featured a 3.5-litre V8 which was good for a claimed top speed of more than 125mph.

One of the most luxurious saloons of its generation, the 280SE 3.5, which was introduced at the 1970 Amsterdam Motor Show, boasted many features that have now been standard for many years, but in the early 70s were ahead of their time, such as independent suspension all round, featuring double-wishbone up front and a swing-axle at the rear, power-assisted recirculating ball steering and disc brakes all round.
Most importantly, the 280Se was one of the very last Mercedes to be hand built. More than 300,000 W108 280s were built worldwide, of which only 11,000 were 3.5SEs. These cars were not only cutting-edge back in their day, they still cut the mustard today – and pose a much more imposing site in the golf club car park than any modern luxury offering from pretty much any brand.
Those stacked headlights set it apart and the refinement and comfort in the cabin are certainly more than acceptable in the modern age. This particular car is currently at Bespoke Cars in Harrogate, finished in blue-grey metallic with MB Tex upholstery.
This particular example is described as being in 'superb overall condition'. Although we haven't seen the car, having covered only 96,000 miles we would expect it to be as described. Supplied new by Mercedes distributor Woking Motors, this model came with a limited slip differential, electric windows, tinted glass, seat belts – and still has its period stereo.

The car has had a complete respray in its original colour, all the chrome work has been rechromed – costing more than £4,000 – and it has brand-new rubbers all round, with the bill for all that work topping £10,000.
The only thing you will need for this car is a large garage and a wad of twenties stacked somewhere in the region of £16k high.
Tempted? We know we are. If so, contact Marcus at Bespoke Cars Harrogate on 07801 696969.
MORE: Cars plunge into workshop as roof gives way at Audi dealership
MORE: BCA in £43m takeover of SMA
MORE: Ford's newly-appointed chief will be speaking at #CDX15
MORE: Why you mustn't miss Manheim at the Car Dealer Conference & Automotive Expo
MORE: More than 1,500 delegates sign up for the event
On superunleaded.com – Mustang Driver Tries To Street Race, Ends Up Parked In A Lamppost