SSANGYONG Motors UK today launched its all-new Korando C-segment SUV – boasting a range of enhancements to the previous model.
Premiered at the Geneva Motor Show earlier this year, the all-new vehicle has the space and capabilities of a traditional SUV and pairs a new stylish exterior and interior design with advanced safety and infotainment technologies as well as efficient new powertrains complying with future emission standards, said the manufacturer.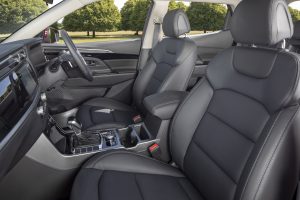 There are four Korando models to choose from, comprising a 1.6 diesel 2WD ELX from launch with a 1.5 GDI-turbo petrol to follow in December, a 1.5 GDI-turbo petrol 2WD Ventura, which is mid-specification level, the Pioneer, which has been designed for SsangYong's caravanning customers and is available with a diesel engine and automatic transmission in 2WD and 4WD, plus the top-of-the-range Ultimate model, which is available as a petrol 2WD and 4WD or with the 1.6 diesel engine with automatic transmission and 4WD.

Ssangyong said: 'From every aspect, all-new Korando has an eye-catching design, with a powerful and striking stance that serves as a solid foundation for its superior ride and handling dynamics.
'Inside, the Korando impresses even further with its fully digital ''BlazeCockpit'' interface and driver-assistance technologies that are unrivalled in its class. Engineered for an active lifestyle, new Korando exceeds expectations by delivering spacious comfort, superior safety, class-leading NVH and pure driving fun.'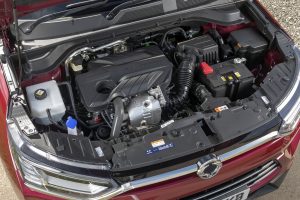 The fourth-generation Korando was designed at SsangYong's R&D centre in Pyeongtaek. The studio has modernised the look of the new Korando, it said, with a range of updates to its exterior and interior designs, as well as a host of added features.
Nick Laird, managing director at SsangYong Motors UK, said: 'SsangYong has created a car which stands out everywhere, from the city to the countryside. Its robust yet sporty design will be matched by a wide range of features and technologies that are universally suited to all buyers and importantly those with active lifestyles, and those who tow – we are keen to continue to appeal to the caravanning market, where we do very well today.

'The new Korando is distinctive and stylish and boasts an array of advanced safety and infotainment technologies as well as best-in-class NVH. It's also large for the segment with a spacious cabin and cargo area.'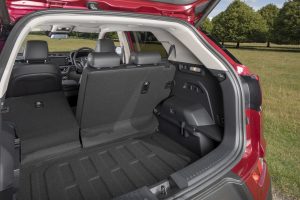 He added: 'SsangYong has over 60 years' experience of making refreshingly different cars. Along the way, we've learnt a thing or two about what customers really need, so instead of wasting money on marketing gimmicks or add-ons, we offer a full range of truly refined and high-spec SUVs that absolutely deliver on the road.
'Our "badge" may be less well known, but what SsangYong lacks in current recognition, we more than make up for with cars that offer huge value without ever feeling compromised. We also have so much faith in our build quality that we offer a full seven-year/150,000-mile warranty.
'We are sure that with the new Korando we have a vehicle that has the potential to upstage some much bigger names in the marketplace.'
MORE: SsangYong supplies 12 Mussos to Highways England – and another dealership joins family
MORE: Geneva 2019 – SsangYong premieres good-looking all-new Korando
SPONSORED CONTENT: Joining the growing SsangYong family will prove to be a great move!