UK inflation dropped sharply to the lowest level in two years last month, as a fall in used car prices mirrored wider trends across the country.
Consumer Prices Index inflation was 4.6 per cent in October, down from 6.7 per cent in September, according to data from the Office for National Statistics (ONS).
In response to the results, the Prime Minister said his pledge to halve inflation by the end of the year has been 'delivered'.

The slowdown came as used car prices, which had been rising for so long, finally began to dip.
Car Dealer reported last week that retail prices for second-hand vehicles on Auto Trader fell by 1.7 per cent year-on-year in October, leaving the average cost of buying a used vehicle at £17,641.
The decline was the biggest monthly drop seen in over 43 months, according to Auto Trader's experts.

Meanwhile, when it came to trade prices, Cap HPI recorded a fall of 4.2 per cent – the biggest monthly dip since 2011.
That also represented the worst performing October EVER recorded by the firm.
Slowing inflation was also driven by house prices, which saw the lowest CPI rate since records began in 1950.
Prime Minister Rishi Sunak said: 'In January I made halving inflation this year my top priority. I did that because it is, without a doubt, the best way to ease the cost of living and give families financial security.
'Today, we have delivered on that pledge.'
Sunak, who yesterday came under attack from outgoing home secretary Suella Braverman, had pledged to halve inflation to below 5.4 per cent by the end of the year.
October's CPI figure marks the lowest level since October 2021, when it stood at 4.2 per cent.
Food and non-alcoholic drink inflation eased to the lowest level since June last year, providing some relief for households squeezed by the higher cost of living.
There has been a significant inflation fall in October: CPI was down from 6.7% to 4.6%, comfortably below Rishi Sunak's target of 5.3% for the last quarter of this year. That drop is all about falling energy prices and a sharp reduction in food price inflation. The inflation…

— Robert Peston (@Peston) November 15, 2023
Suren Thiru, economics director at the Institute of Chartered Accountants in England and Wales, said: 'While the Prime Minister has achieved his target to halve inflation this year, this owes more to the downward pressure on prices from falling energy costs and rising interest rates than any government action.'
Shadow chancellor Rachel Reeves agreed with that sentiment and warned the government about 'popping champagne corks'.
She said: 'After 13 years of economic failure under the Conservatives, working people are worse off with higher mortgage bills, prices still rising in the shops and inflation twice as high as the Bank of England's target.
The ONS's chief economist Grant Fitzner added: 'Inflation fell substantially on the month as last year's steep rise in energy costs has been followed by a small reduction in the energy price cap this year.
'Food prices were little changed on the month, after rising this time last year, while hotel prices fell, both helping to push inflation to its lowest rate for two years.
'The cost of goods leaving factories rose on the month. However, the annual growth was slightly negative, led by petroleum and basic metal products.'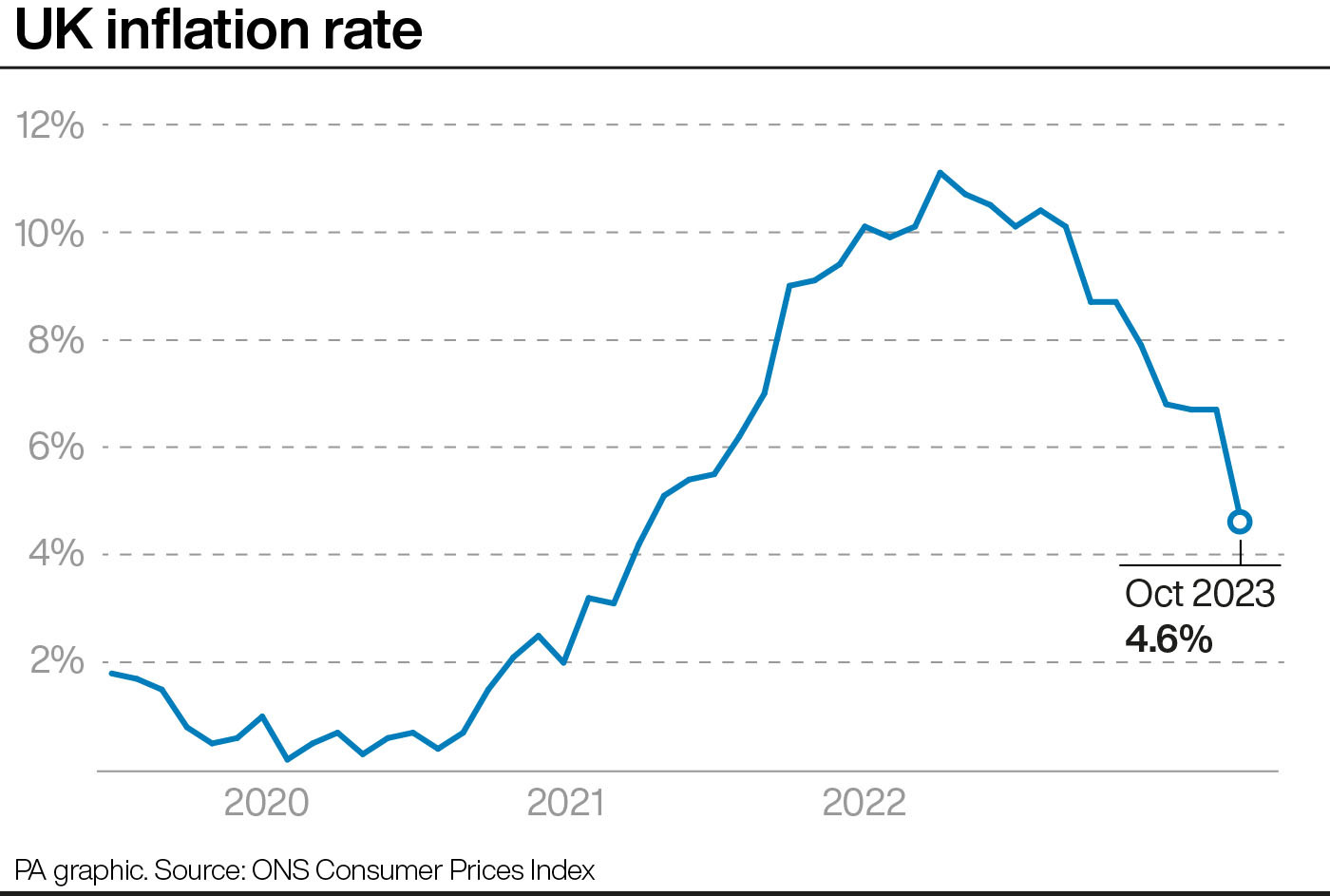 The latest figures also showed the CPI measure of inflation including housing costs was 4.7 per cent last month, down from 6.3 per cent in September.
The Retail Prices Index meanwhile slowed to 6.1 per cent from 8.9 per cent in the previous month.