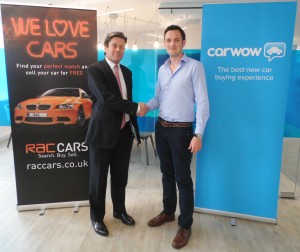 THE UK's largest new-car buying platform, carwow, has teamed up with the RAC as part of its RAC Cars 'search, buy, sell' website. 
Carwow gives buyers another option in the car-buying process by removing the need for haggling.
Buyers simply specify their car – including any options – and Carwow will liaise with approved dealers nationwide. Customers are then presented with competing offers from dealerships across the UK and choose which dealer they'd like to buy from based on delivery time and location, dealer reviews and price.

The transparency that carwow provides fits perfectly with the RAC's mission to be the motorists' champion, with buyers saving around £3,250 on average by using the service. Since its launch in May 2013, carwow's sales have totalled £250m, saving customers more than £30m in the process.
RAC Cars is the RAC's online market place for buying and selling new and used cars offering a range of motoring services to help buyers choose the right vehicle and to give them the confidence that they are getting the best value. In addition, buyers can swiftly get an insurance quote and even apply for an RAC loan.
James Hind, carwow CEO, said: 'We're really excited to team up with RAC Cars.'
RAC chief executive Chris Woodhouse said: 'We see carwow as a perfect match for the RAC to deliver a great new-car buying experience.'

MORE: Benfield's £20m investment programme continues with the opening of another new showroom
MORE: New Mitsubishi dealership opens in Northampton
MORE: Real deals: A trip back to the 70s when Merc was king of the road
On SuperUnleaded.com: These Videos Are The Closest We'll Get To Top Gear Anytime Soon