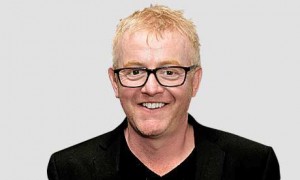 IF Top Gear doesn't hit the heights under the stewardship of Chris Evans, don't worry too much about his bank balance…
According to the Sunday Times, he'll be paid £1m a year for replacing Jeremy Clarkson. And that's on top of his £600,000 salary as a Radio 2 breakfast-show presenter.
And there's the small matter of his sideline… as a car salesman selling high-end prestige vehicles with his company Zimple.

He set up the firm, says the paper, in 2012 after selling his 1964 Ferrari GTO Series II from his own collection for $25m — almost £16m – about £4m more than he paid for it.
Official records for Zimple show that Evans owns 95 per cent and his wife Natasha five per cent. Accounts for the year to March 2014 show turnover from vehicle sales of £6.03m, while his broadcasting and media work had a turnover of £3.4m.
The current fleet owned by Zimple is valued at £8.9m and includes a rare Ferrari Daytona Spyder.
It seems there's little love lost between Evans and Clarkson at the moment, even though they professed to be friends before the Top Gear job became available.

Clarkson used his column in The Sun on Saturday to reveal he was asked if he'd return to Top Gear. he wrote: 'Over a cup of tea in a Mayfair hotel a senior BBC executive came straight out and said it, "Would you consider going back to Top Gear?" '
Evans, though, dismissed it and said Clarkson might have been hearing voices 'inside his own head'.
MORE: Accolade seals a successful six months for Rockar Hyundai
MORE: Vertu high-fliers honoured at prestigious awards ceremony
MORE: Qashqai is hot stuff as Auto Trader publishes its latest top 10s
MORE: Can CX-3 help Mazda hit record sales figures for 2015?
On superunleaded.com – Porsche Believes It Can Fly, It Can't