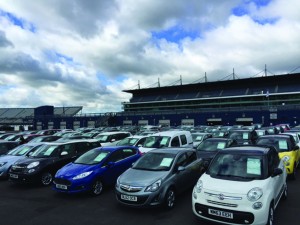 CITY Auction Group has completed a six-figure investment in technology, with the installation of a new online bidding system, as well as a revamped website and an enhanced mobile app.
City Auction Group has retained BPI to install the new technology, which will ensure the online bidding system runs to maximum capacity during the fortnightly auctions. Based on Dell servers and using fibre-optic technology for faster throughput of data, the new system enables customers bidding online to have the same opportunity to buy vehicles as those in the hall. 
The new-look website features a contemporary design, with improved navigation and functionality and will be live on Monday, June 1.  It features a new auction calendar, making it easier for dealers to see upcoming events.  The website is also mobile friendly, so it can be accessed by smart phones and tablets. The improved mobile app will enable buyers to view crucial vehicle data in a more uniform manner to enhance pre-sale event activity and the online bidding opportunity.

Michael Tomalin, managing director of City Auction Group, said: 'We have invested heavily in leading-edge technology to improve the service we offer vendors and buyers.  It is vital our customers have a good experience when they interact with the group and that is why these improvements are so important.
'In a technology-driven world, every business relies heavily on their IT infrastructure.  For us at City Auction Group Rockingham, it's even more crucial as our online bidding platform constitutes 30 per cent of all our sales. We will continue enhancing the website, as well as developing and improving other parts of the business through continued investment in technology.'
BPI is based in Leamington Spa and has been providing digital services and support for more than 20 years. The firm's clients include Severn Trent Water, E.ON, Zurich Insurance, AIG and DirectGov.
MORE: New flagship Kia dealership to open in August

MORE: Women in the motor industry at the Car Dealer Conference & Expo
MORE: Why no-one can afford to miss the Conference & Expo
MORE: Come along and join us on a special day!
MORE: FREE legal advice from Lawgistics at Car Dealer Conference & Automotive Expo #CDX15
MORE: Everything you need to know about the Car Dealer Conference & Automotive Expo
MORE: Get hold of FREE tickets for the event at Silverstone on June 9