VAUXHALL staff in the UK have received a message from the chairman and CEO of General Motors as fears grow that thousands of them could lose their jobs if PSA Group takes over the company.
On Tuesday, it emerged that the owners of Peugeot could buy Vauxhall and Opel from GM in a deal that would transform Europe's car market.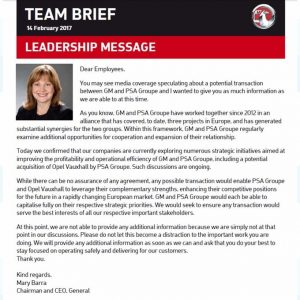 PSA Group revealed it was in talks over a 'potential acquisition' of GM's European car business, as it explores ways of boosting profits and cutting costs.

However, it said there could be 'no assurance that an agreement will be reached'.
The message that has been drawn to Car Dealer's attention – and which is believed to be a genuine communication – was issued on the day that news of the talks emerged. In it, Vauxhall staff are asked not to let the talks become a distraction, and they are asked to do their best 'to stay focused on operating safely and delivering for our customers'.
Company boss Mary Barra, above, says: 'We will provide any additional information as soon as we can.'
Meanwhile, it emerged today that GM president Dan Ammann has flown to Britain to hold crisis talks with the government and unions over the job fears.

Ammann is understood to have met business secretary Greg Clark and Unite general secretary Len McCluskey at Westminster. Clark is also said to be seeking a meeting with PSA Group top brass at the earliest opportunity to discuss the proposed deal that would see Vauxhall and Opel shift to the French government-backed automotive giant.
MORE: Peugeot owner PSA Group in talks to buy Vauxhall and Opel from GM
MORE: Assurances sought on UK jobs as GM mulls sale of Vauxhall and Opel
MORE: Government 'wants talks' with French group over future of UK car workers
MORE: Crisis talks held as fears grow for thousands of Vauxhall jobs
MORE: Could Peugeot kill off the Vauxhall brand?
On SuperUnleaded.com: Who Else Spotted The Number Plate Boo-Boo During Death In Paradise?