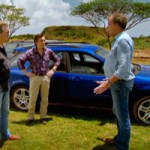 IT looks as if Clarkson, May and Hammond will be back on a TV screen near you soon…
They have dropped a major hint that an American channel has secured the services of the trio – which won't come as a surprise to media watchers, as they have been saying for weeks that US giant Netflix were the favourites.
The news was revealed on the opening night of the Clarkson, Hammond and May Live tour in Australia.

Clarkson told the 15,000 crowd that the former Top Gear presenters had found a new channel – but Hammond and May interrupted, preventing him from revealing the channel.
But during the show, Clarkson laughed at Hammond for pronouncing the letter Z as 'zee' with an American accent. 'You're not in America,' he said. 'Not yet,' said Hammond…
The trio had a clause in their BBC contracts preventing them from making a rival car show on UK television for another two years.

MORE: Issue 89 of Car Dealer is ready to be downloaded to your iPad NOW!

MORE: New dealer chief as Ford makes changes in the boardroom
MORE: Time is Money: The trip to London that made me take action
MORE: Online motor finance firm reports record results
On superunleaded.com – Passat Estate Beats Ferrari 458 In Smokey Drag Race