TODAY sees the global reveal of the new Citroën C3, described by the manufacturer as a fresh, bold and colourful B-segment, five-door supermini.
The best-selling C3 has already sold more than 3.6 million examples since it was originally launched in 2002.
The new version is set to shake up the market with its highly customisable character and the latest automotive technologies, including a world premiere for ConnectedCAM Citroën, an on-board HD camera that allows drivers to share their road-trip photos and videos directly with friends and family.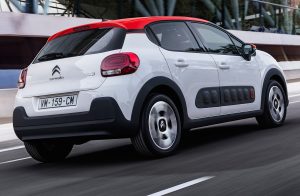 New C3 has been designed to be full of personality, to ensure each owner can create a bespoke look.
The exterior has a two-tone paint option, with a choice of three roof colours and touches of colour around the car. Inside, customers have a choice of four different interiors designed to deliver a spacious, yet intimate feel.
A panoramic glass sunroof, a seven-inch touchscreen that groups together all of the key vehicle functions together, and a keyless entry and start system, are some of the other features of the car.
ConnectedCAM Citroën uses a fully integrated camera, located behind the rear view mirror, to capture images and video that can instantly be shared on social media channels, or saved as evidence in the event of an accident.

The New Citroën C3 now offers more options that improve the driving experience, with an advanced driver assistance system including voice-controlled 3D navigation, a reversing camera, lane departure warning and blind-spot monitoring.
Finally, the efficient, high-performance powertrain options continue the technological theme with PureTech petrol and BlueHDi Diesel engines, and the latest generation EAT6 fully automatic gearbox available as part of the range.
Citroën CEO Linda Jackson said: 'The New C3 has all the Citroën values and all the qualities to give the brand new impetus. A comfortable car with real personality, it is set to appeal to new customers looking for a modern car with character.'
MORE: Motorline expansion continues with acquisition of Westlands Group
MORE: Almost 1.5m Toyotas recalled in new alert over defective airbags
MORE: Plan Insurance Brokers are the people's choice
On SuperUnleaded.com: Ken Block's Gymkhana Mocked By World's Coolest Honda