YES, it really could be you featuring in the line-up of happy winners at this year's Car Dealer Used Car Awards!
Above is 2018's triumphant entrants – and the deadline for nominations for this year's event is this coming Monday. The clock really is ticking, so if you haven't already put yourselves or somebody else forward, then make sure you set aside some time this weekend to do so!
The Car Dealer Used Car Awards – now in their eighth magnificent year – shine a spotlight on the best, brightest, smartest and downright nicest across the full spectrum of the trade. And winning a Car Dealer Used Car Award is BIG. Dealers and sponsors are proud to let the world know about their successes, because the awards show how highly regarded they are within the industry.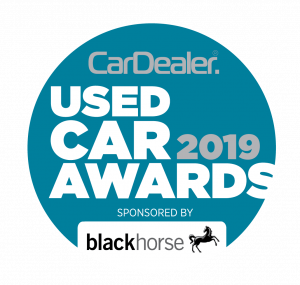 The event, sponsored by Black Horse, honours all parts of this vital backbone of the motor trade, too. From the smaller independents to the larger groups, it's for every dealer in the used car business.
This year, the awards are being held on Monday, November 25, with the fantastic theme of 'The Goodnight Cabaret'.
We'll be handing out gongs in a variety of categories, and if you reach the final shortlist you'll be invited to our glittering ceremony – hosted by TV's Mr Wheeler Dealer, aka Mike Brewer – at The Brewery in London, where you'll be able to enjoy a terrific meal, free drinks and – if you fancy it – lots of dancing!
It's always a grand night out, so don't delay, enter today!

The Car Dealer Used Car Awards really are the awards that matter. The deadline for nominations is Monday, October 14, so…
MORE: Credibility and increased interest – That's what winning a Car Dealer Used Car Award gets you!
MORE: 'The best awards we've ever been to!' Why YOU need to get your entries in for Car Dealer's Used Car Awards