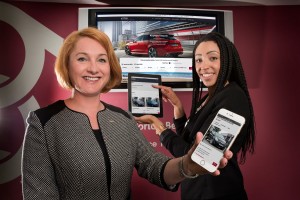 YORKSHIRE car retailer JCT600 has launched a new website designed to enhance the customer experience, regardless of the browsing device being used.
The fully responsive site represents a six-figure investment for the company and has taken 18 months to develop.  It is believed to be the only motor retailer website built around keyword search, enabling customers to quickly shortlist vehicles of interest.
It also includes full technical specification and economy figures as well as a finance calculator and application form. Customers can book servicing and repairs, obtain part-exchange valuations, watch JCT600's latest videos about products and services and chat online to advisers who are available until 10pm Monday to Friday.

Work on the new site started after a six-month research programme conducted by Manchester-based Code Computerlove.
The findings were delivered into a completely new design before JCT600 turned to car dealer digital marketing agency BlueSky Interactive to develop the site.
Charlotte Murray, head of digital for JCT600, said: 'The new website gives speedy access and easy navigation, so today's sophisticated customers have a wealth of information at their fingertips.'
John Tordoff, chief executive of JCT600, added: 'In addition to continuing our ongoing improvement programme throughout our 50 physical dealerships, we recognise the ever-increasing importance of the internet to our customers.

'Our ability to combine the latest technology to make their purchasing decision easier, as well as the security of a known and trusted brand, together with personal service from our excellent team, is proving a winning formula.'
JCT600 is a family business with a history of over 60 years. It has 50 dealerships throughout Yorkshire, Derbyshire, Lincolnshire, Nottinghamshire and the North East and sells 18 of the world's most respected brands such as Aston Martin, Audi, Bentley and Ferrari.
Our picture shows Charlotte Murray, left, head of digital for JCT600, and Sarah Royal, the company's website administrator.
MORE: Football stars hoping to clean up for charity
MORE: Election-year slowdown of car sales hasn't happened this time
MORE: MG opens flagship showroom in Piccadilly
On SuperUnleaded.com: Bond gets busy in Aston Martin DB10 for new movie