Here's your business, motoring and news round-up for Monday, July 27
GDP could remain low until 2024
It could take five years for a key measure of the UK's economy to get back to where it was before coronavirus, new figures have suggested.
Experts at big four consultancy EY said that they expect gross domestic product (GDP) to remain below where it was in 2019 until 2024, dealing a blow to hopes of a rapid recovery.

The consultancy firm believe that GDP will contract by 11.5 per cent this year in the UK, well worse than the eight per cent they predicted just a month ago. It will then bounce back to notch up 6.5 per cent growth in 2021. Read more
France and Germany could be struck off 'safe list'
There are fears France and Germany could be struck off the UK's 'safe list' of travel destinations, reports the Telegraph.
If they are, the two countries would follow Spain which controversially was struck off the list over the weekend, prompting the Department of Transport to urge employers to be sympathetic to staff who now have to quarantine for 14 days when they return to the UK from Spain.

French health authorities said at the weekend that the country's R-rate was up to 1.3 and that daily new infections on Friday had risen to 1,130 – indicators resembling those seen in May, when France was coming out of its strict two-month lockdown.
Lose five pounds to help save the NHS money
Overweight people are being asked to lose five pounds to save the NHS money and help lower the risk of dying from coronavirus as part of the government's new obesity crackdown.
Boris Johnson, when he unveils his obesity strategy today, will signal an end to confectionery displays at store checkouts and ban junk food adverts on TV before 9pm.
Health Secretary Matt Hancock, writing in the Telegraph, set anybody classed as overweight a goal, saying: 'If everyone who is overweight lost five pounds it could save the NHS over £100m over the next five years. And more importantly, given the link between obesity and coronavirus, losing weight could be lifesaving.'
Ryanair records 185m euro loss
Ryanair said it suffered the 'most challenging' quarter in its 35-year history as it reported a loss of 185 million euro (£168m).
Restrictions saw the company carry 500,000 passengers in the first quarter compared with 41.9m in the same period last year, while revenue collapsed from 2.3bn euro (£2.1bn) to 125m (£113m).
Ryanair Holdings plc said it expected air travel to be depressed in Europe for the next two to three years, adding: 'This will create opportunities for Ryanair to grow its network, and expand its fleet, to take advantage of lower airport and aircraft cost opportunities that will inevitably arise.'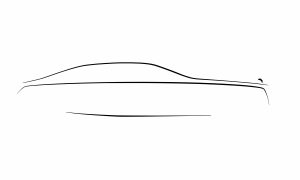 Rolls-Royce teases new Ghost saloon
Rolls-Royce has teased its new Ghost saloon with a sketch and an 'open letter' from the firm's boss.
The new model is set to be fully unveiled in Autumn and boss Torsten Muller-Otvos has promised the car only carries over 'the Spirit of Ecstasy and umbrellas' from the outgoing Ghost and is totally new.
The sketch, which hints at the new model's 'minimalist design', is the first in a planned series of 'animations', 'insights in clients's lifestyles' and technical details in the run-up to the car's debut.
Restaurant customers 'overwhelmingly satisfied by safety measures'
Restaurant customers have overwhelmingly said they have been satisfied by safety precautions after dining out again following the coronavirus lockdown, according to new research.
Initial findings from Yumpingo's We Hear You initiative have shown that 96 per cent of people who have returned to restaurants were satisfied by measures in place.
However, monitoring by trade body UKHospitality showed just 53 per cent of bars and restaurants reopened during the first week of trading after lockdown, with revenues hitting 44.5 per cent of previous levels at these sites.
Fresh coronavirus outbreak in Shropshire caravan park
A Shropshire caravan park has seen 21 new cases of coronavirus.
The council fears the number of cases at the site, which is in the town of Craven Arms, will continue to rise before infection control measures start to take effect.
All residents who have come into contact with one of the positive cases have been asked to self-isolate with their households for 14 days, while the 21 people who tested positive music quarantine for at least seven days.
And looking at the weather…
Today
Much of the UK will see rain today, reports BBC Weather. It'll be heaviest in the north and west, while other areas will see showery outbreaks of rain at times. Turning drier from the south west later. Windy.
Tomorrow
As rain clears north eastwards tonight, much of the country will become dry with clear spells. However, Scotland will be cloudier with a few showers. A cooler night, especially for the south.
Tuesday
A cool and breezy day for most with north westerly winds. Much of the country will see a mixture of sunny spells and a few showers, with these mainly being in the north and west.
Today on Car Dealer Live – Car Dealer columnist James Litton. Tune in here at 12pm
What you might have missed on Car Dealer Live last week