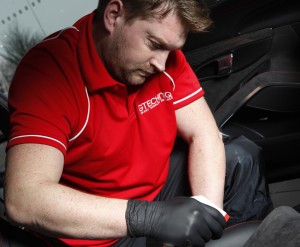 A LEADING ceramic coatings manufacturer has unveiled plans to make bacteria in cars 'a thing of the past'.
Gtechniq, the creators of Smart Surface Science, have teamed up with BioCote, the creators of innovative antimicrobial technology, to eradicate unhygienic car interiors.
Rob Earle, Gtechniq managing director, said: 'With 30 hours a year stuck in traffic, not to mention all of the hours on the move, there is no wonder cars are subjected to conditions that can encourage the growth of unwanted microbes.

'Food, drink spills, dust and dirt are an unwanted health hazards. Our advanced knowledge of surface technology has allowed us to create a product to help ensure these unnecessary hazards are a thing of the past.'
BioCote is the leading provider of proven antimicrobial / antibacterial technology. When integrated into Gtechniq's interior protection products, BioCote technology is said to reduce microbes by up to 99.99 per cent, making the surface of the car hygienic and defending it against degradation, odours and staining.
Next month, Gtechniq will launch the first of its antimicrobial products in the form of a fabric and leather protection, as part of the new exclusive Platinum dealership system.
Gtechniq are the first to launch protective nano coatings with lasting antibacterial properties.

Rob added: 'As manufacturers of leading composite ceramic coatings it is great to be able offer something new to the market that will continue to make the lives of our customers easier and safer.'
MORE: Dealer Auction launches new, improved website
MORE: Auto Trader: Now is the ideal time for us to join the Stock Market
MORE: Suzuki Celerios being returned to customers after safety recall