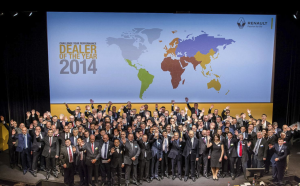 RENAULT'S top dealers have been honoured at an awards ceremony in Paris.
More than 2,000 dealers took part in the Dealer of the Year challenge across 35 countries and Jérôme Stoll, the chief performance officer and executive vice-president of sales and marketing, hosted an award ceremony in Paris for the best 100.
The Dealer of the Year challenge recognises the group's best dealers in terms of:

Sales volume for new vehicles, spare parts, accessories and service contracts
Profitability
Service quality in sales and aftersales
The ceremony took place at the Renault Technocentre R&D facility outside Paris.
Stoll acknowledged the commitment and professionalism of the elite Renault dealers and underlined the importance of the dealer network in transmitting the values of the group's brands, products and services and their key role in customer satisfaction and loyalty.
'Renault's success and that of its dealer network both depend on the quality of service we deliver to our customers. If we're not up to the level of customer satisfaction expected of us, our customers will go to the competition. All the hard work we have put into releasing attractive products will be worthless,' he said.
The five Dealers of the Year from the UK and Ireland are:

Mitchells Lowestoft, Lowestoft
TC Autos, Omagh
Gravells, Kidwelly
Park's East Killbride, Glasgow
O'Briens Mullingar, County Westmeath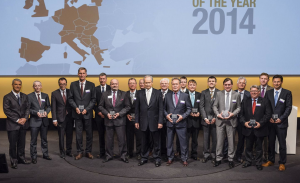 Read about the Renault Store philosophy in Issue 86 of Car Dealer Magazine, which should be dropping through sealers' letterboxes any day now…
MORE: Toyota previews showroom of the future for revolutionary Mirai
MORE: Honda is awarded 'most reliable manufacturer' for the ninth consecutive year
MORE: FREE legal advice from Lawgistics at Car Dealer Conference & Automotive Expo #CDX15
MORE: Volvo showrooms to have a bright new look
On SuperUnleaded.com: We Played With A BMW i8 For A Week, Here's Our Favourite Bits