TEAMSPORT Southampton played host to the second qualifier for the Car Dealer Go-Karting Challenge in association with Close Brothers Motor Finance this week.
The 90-minute endurance race was won by RL Motor Services of Plymouth, while West Sussex-based Roundstone Vans took second place.
For much of the race, the battle for victory looked was between two karts; the RL Motor Services outfit in Kart #9, and Bel Royal Kia of Jersey in the #8. The Channel Island dealers led the way for the majority of the battle, and this was only helped by a 60-second time penalty for their rivals as the race approached half distance.

In spite of this penalty, RL Motor Services boss Richard Lakey and his team of Ross Pinder, Justen Blencowe and Sam Copeland gradually chipped away at the gap, and, with 35 minutes left on the clock, the outfit retook the lead.
The battle remained close, with the two teams within spitting distance as the final third of the race began.
The #8 Bel Royal team made their final stop with just over 25 minutes to go – however, just two laps after Dan Hegarty handed over to Michael Raynes, the black flag waved for the #8. It turned out that Hegarty had overtaken under yellow flags moments before pitting, meaning that Raynes had to serve the 60-second penalty on his behalf.
This moment would be the downfall of Bel Royal, who would ultimately finish fourth.

The team driving Kart #10, led by Close Brothers' Andy Macaulay, finished third – a position that could grant them a place in the final once the last qualifier is completed in February, depending on the speed of the other third-place finishers.
Roundstone Vans' team of Simon Reed, Mark Simpson, George Zotaj and John Hills finished second after largely staying out of trouble, while RL Motor Services finished a lap clear of the van dealers to take victory.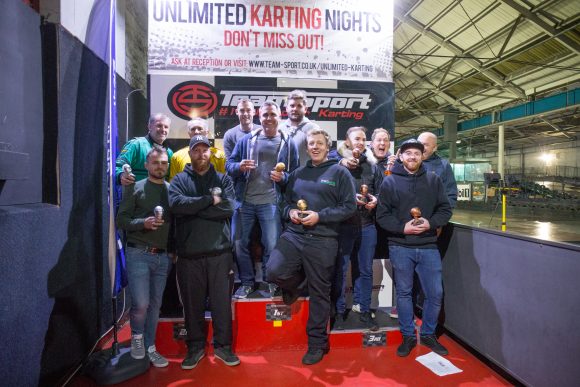 After the race, Richard Lakey of RL Motor Services said: 'Everybody drove really well, we had a good laugh, and thanks to Close Brothers for inviting us. We came from Plymouth, so it's a long drive home now, but we'll be at the final!'
The Car Dealer Karting Challenge in association with Close Brothers will return on January 23, with the eastern qualifier event in Basildon.
MORE: Introducing… the great Car Dealer Magazine Go-Karting Challenge!
MORE: Blackshaws and Codeweavers win first Car Dealer Go-Karting Challenge event