By our newshound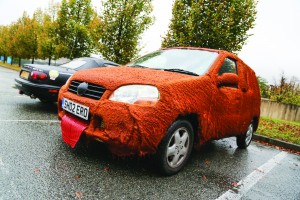 It was a pretty paw show when the owners of a car covered in fur to look like a dog were hounded for a congestion charge payment – because it had been driven a few yards into a hotel for a charity auction.
Staff at Blackshaws car dealers in Alnwick, Northumberland, had dressed the Suzuki car to compete in Car Dealer Magazine's Bangers4BEN event.

The challenge was for dealers around the country drive to Turin – and back – in a banger, and afterwards the cars would be auctioned to raise money for the automotive charity BEN.
Blackshaws' furry Ignis looked the dog's doodahs – it was so eye-catching that Italian police flagged it down during the trip so they could get a picture of their police dog next to it – and it was decided to auction it separately at BEN's annual Ball to raise more funds.
William Blackshaw, the dealer principal, said: 'We're in Northumberland and the Ball was in London, so someone offered to put it on a loader and take it for us.
'When they pulled up outside the hotel, they were told the car had to go round the back so it could be driven into the auditorium for the auction.'

But as the car was driven off the trailer and it then poodled round the block to the hotel's back entrance, it was snapped by a London congestion charge camera.
And after the auction – where it raised an eye-watering £4,000 for BEN – it needed to be driven back on to the loader, to be taken to the charity's headquarters. And it was snapped by the camera. Again.
The first Blackshaw knew of it was when he received an official-looking letter telling him he had to pay TWO congestion charges.
'I appealed against it, pointing out the car was on the back of a loader and was only being taken into the hotel to raise money for charity,' he said.
'But I received a reply saying the charge stood – and that I had to pay £130. They refused to budge.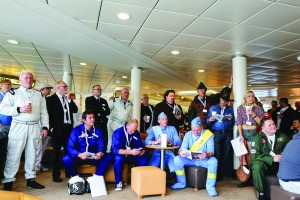 'It's really disappointing. You try to do the right thing and raise a bit of money for charity, and this happens. Okay, it was on a road for a minute – but only to be driven into the auditorium. It doesn't seem morally right. There doesn't seem to be any human involvement – it's too black and white. It grates a bit.
'BEN offered to reimburse me the £130, but that's hardly the point, is it? We're trying to raise money for the charity by doing this, not asking them to pay out.'
So Car Dealer got involved to try to get some sense into the barking charge.
Blackshaws may have thought it was all Rover – but we thought the charge was a bit ruff, so we made some calls…
We spoke to those nice people at the Transport for London press office. Is this really what the congestion charge was brought in for? we asked. They agreed with us.
They called William Blackshaw to tell him the charge was being refunded.
Paul Cowperthwaite, TfL's general manager of road user charging, told us:'We have reviewed this particular case and, given the vehicle in question was auctioned for charity and spent a small amount of time on the road, have taken the decision to cancel both penalty charge notices as a one-off gesture of goodwill.'
Blackshaw added: 'It's great that common sense won in the end. I'm delighted with Car Dealer for sorting it, and I'm sure BEN will be pleased, too – I think they were feeling a little guilty about it.'
Bangers4BEN raised more than £40,000 – a record amount.
MORE: BMW buyer uses 100,000 banknotes to pay for a new car
MORE: Clocking is back, but dealers are the victims this time
MORE: Huddersfield dealership has a new man at the helm
MORE: New Mitsubishi dealership opens in Salisbury
On superleaded.com – Campus Cops Are Left In A Spin By Catering Cart Prank