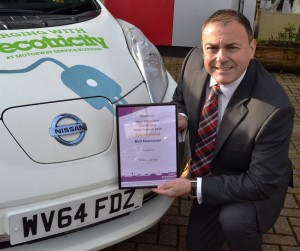 STAFF at a car dealership in Bristol are celebrating after scooping an accolade at the West of England Sustainable Travel Awards.
Wessex Garages in Pennywell Road won the Best Newcomer Award given to organisations that have recently encouraged employees to adopt healthier and more sustainable modes of travel to work.
Keith Brock, managing director of Wessex Garages, said: 'We are extremely proud to have won this award.

'We have worked very hard during the last year to help foster a different commuting environment at the dealership after local residential parking restrictions came into force.
'One of the things we have done is to invest in the dealership so it is better equipped to deal with more people cycling or walking to work and have installed a bike rack, shower facilities, locker rooms and a drying room.
'We have also offered more flexible working hours for staff to enable them to tie-in with public transport timetables or so they can car share with colleagues. I would like to thank all the Wessex Garages' staff for their hard work and dedication as without them winning the awards would not have been possible.'
The West of England Sustainable Travel Awards, which are organised by Travel West, were held at the Hewlett Packard Conference Suite in Stoke Gifford. The awards celebrate the achievements of individuals and employers who have been instrumental in promoting sustainable travel during the past year.

Mayor of Bristol, George Ferguson, said: 'I am full of admiration for Wessex Garages' management and staff and know how hard the whole team there have worked to embrace alternative ways of getting to work. I now hold them up as a model to other major employers in the Bristol area.'
Our picture shows Keith Brock, managing director of Wessex Garages, with the award. 
MORE: New VW showroom opens next month in Burton upon Trent
MORE: Formula One world champion goes undercover at car dealership
MORE: Car dealership worker sacked after Armistice Day argument