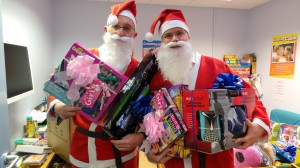 THIS Christmas, 20 charities have benefited from the Swansway Group Santa Patrol, the seasonal fund-raising initiative run by the North West-based dealer group.
Swansway purchased £10,000-worth of toys and shared them out across their dealerships with instructions that they should be given away to disadvantaged children.
David Smyth, director of the award-winning business, said: 'As a family business, Christmas is extra special to us and this year we really wanted to give something back to the communities we serve.

'Christmas is a time for kids, but, sadly there will always be children who, through their circumstances, will not enjoy the festivities they deserve. The Swansway Santa Patrol has ensured they will get something special from Santa.'
The 17 centres in the Swansway group have all donated their gifts to local charities including Staffordshire Women's Aid, Barnardos, Cheshire East Children's Services, Gingerbread, Sunfield, Mission Christmas and many more.
David added: 'The response we have had from the charities has been overwhelming and to be honest, very humbling; it's helped remind us all of the true meaning of Christmas and we'll definitely be repeating the Swansway Santa Patrol next Christmas.'
MORE: Dealers must keep up with digital revolution

MORE: Steve Hood takes over as new boss of TrustFord