USED car values continued to grow in February despite market turbulence, according to Auto Trader's Retail Price Index.
The average price of a used car in February 2018 was £12,768 – a six per cent increase on the same month last year and the same level of growth as in January 2018.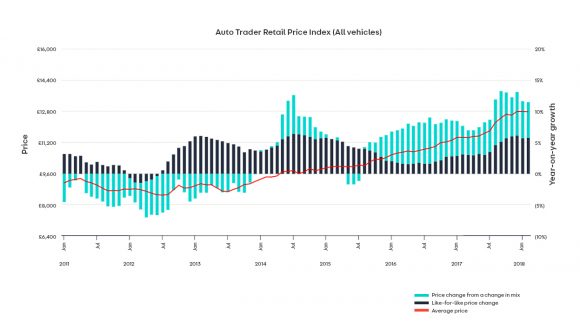 Although new diesel registrations have been steadily declining, the Retail Price Index shows that used examples are in fact going up in value. The average price of a used diesel last month was £14,400, which is a three per cent increase of £476 year-on-year.

However, this performance somewhat pales in comparison to used petrol models, which saw a 10 per cent year-on-year rise of £1,105 to a total of £10,733.
An average of 22 per cent of Auto Trader searches are based on fuel type and, last month, 53 per cent of users selected diesel – a figure which didn't change from January.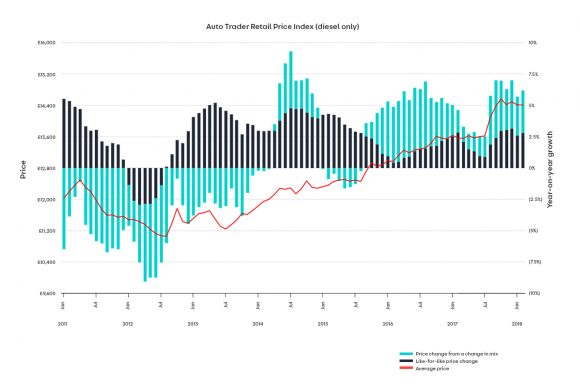 There was also no change in the proportion of searches for petrol and alternatively fuelled vehicles (AFV), with both remaining at 43 per cent and four per cent respectively.
Karolina Edwards-Smajda, retailer and consumer product director at Auto Trader, commented: 'Retailers will continue to face unprecedented challenges this year, not least the ongoing fuel debate and the influence of Brexit, which, as our recent market report highlights, is affecting 61 per cent of consumers' buying and selling decisions.

'However, 2018 holds some exciting opportunities, particularly within the used car sector, the growth of which we believe will be fuelled by greater finance penetration.
'The average two to three year PCP renewal cycle is driving younger and more desirable cars into the market, which, in turn, is pushing the average price of used cars up. This means there is huge potential for retailers to capitalise by making finance easier to understand, easier to navigate and available to consumers at the beginning of their car buying journey, not at the end of it.
'While the negative rhetoric that has surrounded the fuel debate over the last few years has clearly impacted the new car market, in regard to the used market, diesels have demonstrated remarkable resilience.
'Not only are they retaining their value, but as a fuel type, they remain the most popular on our marketplace. That's because they are an excellent choice for many drivers who depend on their fuel efficiency for long distance and out of town driving. What's more, modern Euro 6 technology is, in many cases, a more environmentally friendly choice than petrol alternatives.
'With the recent news that the number of electric cars sold in Britain has fallen by a third since the start of the year, the government's approach of demonising diesel, combined with a lack of sufficient incentives for AFVs, is not only harming the automotive industry, but also hampering their clean air ambitions.'
MORE: Ford Ka was February's fastest-selling used car, says Auto Trader
MORE: 'Brexiety' has caused new car sales dip, says Auto Trader
MORE: Ford Ka was UK's fastest-selling used car in October, says Auto Trader
On WorkshopMagazine.co.uk: H.R. Owen Bodytechnics wins official Lamborghini accreditation