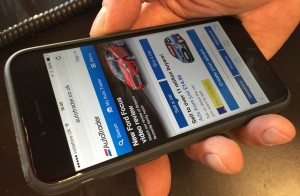 AUTO TRADER traffic dropped 19 per cent last year, according to a report in today's Times.
The newspaper quoted online analytics company Eagle Alpha which said that, despite 34 months of consecutive growth in the UK car market, Auto Trader's website traffic 'had dropped by 19 per cent year-on-year'.
Equity analyst at Eagle Alpha, Mike Bulter, told The Times: 'Some of the decline can be attributed to the increasing use of the company's mobile app; however, the highlighted 19 per cent decline year-on-year is not solely the result of a move to mobile use.'

He also noted that Auto Trader, who work with 80 per cent of all franchise and independent dealers in the UK, generates almost 40 per cent of its traffic from Google but the firm's visibility on the search engine had also dropped last year.
Third-party online traffic tracking firm SimpleWeb also commented that the number of visitors to the Auto Trader website had dropped to 10.4m visitors in December 2014.
Butler did add that an advertising campaign in January and February had increased traffic, however, he said: 'Whatever the absolute number of visitors to the site, the most important thing to note is that the data suggests there has been quite significant decline last year and that could be a problem.'
Market speculation has already suggested that Auto Trader could float at between 200p and 250p, giving the car retailer a potential value of £2.5 billion.

Car Dealer Magazine has contacted Auto Trader and offered the company the chance to put its side of the story across here. We have been told a statement is currently being produced and is with the board for approval.
A spokesman told us: 'We have to be sensitive on comms at the moment due to rules on the flotation.'
MORE: Chrysler to be withdrawn from sale in the UK
MORE: Passenger car registrations up for the 18th consecutive month
MORE: Electric car residual value forecasts edge closer to diesel
On SuperUnleaded.com – Proof That Idiots And Supercars Just Don't Mix