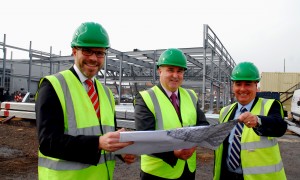 BENFIELD is continuing its expansion in Wearside with the announcement it is building a new flagship £5.7million Audi dealership in Sunderland. 
The North East's largest dealer group, who recently completed the building of a new £5 million Ford retail outlet on Newcastle Road, is now building a stunning 12 car Audi showroom on the same site as part of its £20 million capital investment programme to improve its retail facilities for customers.
The 30,000 square foot Audi development is due for completion in the Autumn and will feature a roof top car park, a 16 bay workshop with advanced diagnostic technology and the latest customer service facilities.

The family owned business are proud to be bringing such a prestigious development to the region.
Mark Squires, Benfield's chief executive, said: 'I am enormously proud to announce this new Audi development here in Sunderland.
'This commitment by Benfield underlines our commitment to Wearside and the proposed stunning modern design and beautiful car showroom will provide unrivalled customer service and aftersales facilities. Once complete it will be one of the most impressive motor retailing sites in the North of England.
'Audi's leadership in the prestige car market continues at pace and by announcing this development we are making a powerful statement of what the brand represents, stunning design, the latest in technological innovation, coupled with genuine desire to deliver a world class experience for its customers.'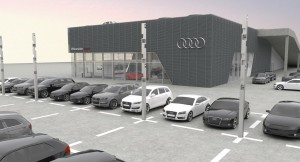 Squires added: 'Customers will love the new showroom facilities, roof top car park, our customer lounge and the all-new Audi car configurator room as well as the biggest choice of Approved Used Audis we have ever been able to offer across the region.'
The new development will replace the present Audi dealership on Stadium Way and the new state-of-the-art show room has space for 12 car display area and there is also a large used car display area.
The overall development includes a full aftersales facility, a 16 bay Workshop with advanced diagnostic equipment, dedicated customer car parking, a private lounge area to configure you perfect Audi and a 'Quattro Lounge' with free Wifi and refreshments.
Benfield Motor Group employs over 1,500 staff and has 30 retail outlets throughout the North East of England, Yorkshire, Cumbria and South West Scotland across a portfolio 12 car retail brands.
Benfield Motor Group is an independently owned family business founded in Newcastle in 1957 by John Squires Senior and developed by John Squires Junior the present chairman.
MORE: Chrysler to be withdrawn from sale in the UK
MORE: Passenger car registrations up for the 18th consecutive month
MORE: Electric car residual value forecasts edge closer to diesel
On SuperUnleaded.com – Proof That Idiots And Supercars Just Don't Mix