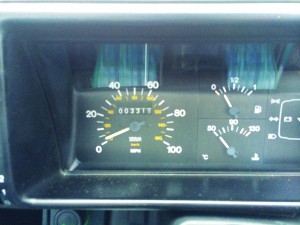 A DEALER has had to pay out almost £7,000 after being found guilty of car clocking.
Londonderry Magistrates' Court heard that Christopher Barr – who trades under the names Barr Motors, Auction Cars Direct UK and Trade Sales Direct – heard that two cars had their mileage reduced by a total of 118,000 miles.
Barr, from  Eglinton, was fined £2,700 and ordered to pay compensation of £4,196.78.

The Trading Standards Service of the Department of Enterprise, Trade and Investment brought charges taken under the Fraud Act 2006 and a further four charges under the Consumer Protection from Unfair Trading Regulations 2008.
In Barr's absence, the court recorded a finding of guilty.
The Londonderry Sentinal reports that in April 2014, the Trading Standards Service received complaints from a number of consumers who had bought cars from Barr, who found the vehicles had either been clocked or had significant mechanical problems.
The court was told the Trading Standards Service believed Barr had full knowledge of the higher mileage before to selling the cars, and that he also used a form of words in the receipts aimed at removing his responsibilities under Sale of Goods legislation.

Catherine McErlean of the Trading Standards Service said: 'Car dealers have a responsibility to ensure all descriptions applied to vehicles are truthful and not misleading to consumers. Barr's behaviour in the sale of these particular vehicles fell well short of the trading practices expected.'
MORE: New MOT and servicing department for Yorkshire car dealer
MORE: We're on the lookout for more dealers, says MG
MORE: Kia celebrates record figures across Europe
MORE: Expanding Wessex Garages to open new Renault and Dacia outlet
On superunleaded.com – Holy Trinity Supercar Collection Leads To High Court Spat