THE 1967 Ford Mustang GT500 Shelby Cobra that featured as the lead car in the blockbuster film 'Gone In Sixty Seconds' starring Nicolas Cage has been advertised for sale on Auto Trader.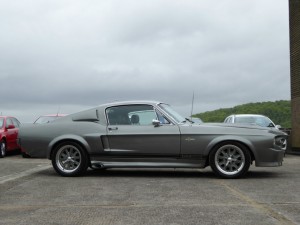 The Shelby Mustang film star was affectionately dubbed 'Eleanor' in the 2000 film that also starred Angelina Jolie, Robert Duvall and Vinnie Jones and played a lead role during the climax of the movie with a mega chase scene through the streets and docks of Los Angeles.
The GT500 is a rarity in its own right given that only 300 were ever manufactured by American tuning legend, Carroll Shelby. It was based on the Ford Mustang Fastback and had several body parts made from fibreglass to reduce weight such as the side intakes and bonnet, and was powered by a huge 7-litre V8 petrol engine.

In what appears to be an eventful journey, 'Eleanor' is now for sale at a dealership in Keighley, Yorkshire, and is claimed to have been used for the 'beauty' shots in the film, plus promotional activity. According to the dealership, 'Eleanor's' previous owners also include the London Motor Museum and ex-Chelsea and Barcelona forward Samuel Eto'o.
The car is listed by the retailer as boasting a rare specification including a 7-litre V8 with a 428 Cobra Jet Engine upgrade, full black leather Carroll Shelby Signature seats, original Shelby 427 wheels and Shelby racing fuel cap.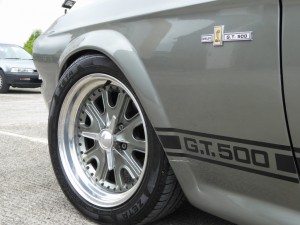 Labelled as the most iconic fast Ford ever built, the car is up for sale with a price tag of just under £100,000.
Of the 50 cars that Nicolas Cage and his gang needed to steal in what is now considered one of Hollywood's most famous car heist film, half of them can be secured through more conventional means by buying them on Auto Trader.

Here's the full list of the cars and whether or not they are listed for sale on Auto Trader.
| | | | |
| --- | --- | --- | --- |
| | Car | Code name | Is it on Auto Trader? |
| 1 | Aston Martin DB7 | Mary | YES |
| 2 | Aston Martin DB1 | Barbara | NO |
| 3 | Bentley Arnage | Lindsey | YES |
| 4 | Bentley Azure | Laura | YES |
| 5 | Bentley Continental | Alma | YES |
| 6 | Cadillac Eldorado | Madeline | NO |
| 7 | Cadillac Eldorado Brougham | Patricia | NO |
| 8 | Cadillac Escalade | Carol | YES |
| 9 | Cadillac Eldorado STS | Daniela | NO |
| 10 | Chevrolet Bel Air Convertible | Stefanie | NO |
| 11 | Chevrolet Camaro Z28 | Erin | YES |
| 12 | Chevrolet Corvette | Pamela | YES |
| 13 | Corvette Corvette Stingray L71 | Stacey | YES |
| 14 | Ford F-Series F-350 4×4 Pickup | Ann | NO |
| 15 | DeTomaso Pantera | Kate | NO |
| 16 | Plymouth Superbird | Vanessa | NO |
| 17 | Dodge Viper Coupé GTS | Denise | YES |
| 18 | Ferrari F355 B | Diane | YES |
| 19 | Ferrari F355 F1 | Iris | YES |
| 20 | Ferrari 275 GTB/4 | Nadine | NO |
| 21 | Ferrari 550 Maranello | Angelina | YES |
| 22 | Ferrari Testarossa | Rose | YES |
| 23 | Ford T-Bird | Susan | YES |
| 24 | GMC Yukon | Megan | NO |
| 25 | Hummer H1 (2 Door) | Tracy | YES |
| 26 | Infiniti Q45 | Rachel | NO |
| 27 | Jaguar XJ220 | Bernadine | NO |
| 28 | Jaguar XK8 Coupe | Deborah | YES |
| 29 | Lamborghini LM SUV | Gina | NO |
| 30 | Lexus LS 400 | Hillary | YES |
| 31 | Lincoln Navigator | Kimberley | YES |
| 32 | Mercedes-Benz 300 SL/Gullwing | Dorothy | NO |
| 33 | Mercedes Benz CL 500 | Donna | YES |
| 34 | Mercedes Benz S 600 | Samantha | NO |
| 35 | Mercedes Benz SL 600 | Ellen | NO |
| 36 | Mercury Custom | Gabriela | NO |
| 37 | Plymouth Hemi'Cuda | Shannon | NO |
| 38 | Plymouth Road Runner | Jessica | NO |
| 39 | Pontiac GTO | Sharon | NO |
| 40 | Porsche 996 | Tina | YES |
| 41 | Porsche Boxster | Marsha | YES |
| 42 | Porsche 356B Speedster | Natalie | YES |
| 43 | Porsche 959 | Virginia | NO |
| 44 | Porsche 911 Twin Turbo | Tanya | YES |
| 45 | Rolls-Royce Park Ward Stretch Limousine | Grace | NO |
| 46 | Shelby AC Cobra | Ashley | NO |
| 47 | Shelby Mustang GT500 | Eleanor | YES |
| 48 | Toyota Land Cruiser | Katie | YES |
| 49 | Toyota Supra Turbo | Lynn | NO |
| 50 | Volvo V70R | Lisa | NO |
MORE: Prestigious Autocar awards to be held at CDX
MORE: Indian carmaker to launch e20 electric car in London
MORE: JCT600 invests £815,000 in York VW redevelopment
On SuperUnleaded.com: This Electric Corvette Shows That The Future Is Bright