AUTOMOTIVE designer and engineer Gordon Murray has been made a CBE in the Queen's New Year Honours for 2019.
The accolade – which sees him created a Commander of the Order of the British Empire – has been given in recognition of his services to motoring, after a lifetime of devising and delivering creative and ground-breaking projects in the motorsport and automotive sectors.
Murray, 72, said: 'It is extremely humbling to receive a CBE in the Queen's New Year Honours.

'I've spent more than 50 years doing what I love, working with a wealth of highly talented and creative people around the world, but primarily in the UK. From the competing during the heyday of Formula One to designing the world's fastest supercar, I've loved every minute.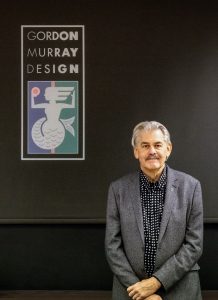 'I'd like to dedicate this honour to all those I've worked with over the years and I look forward to an exciting new future for the Gordon Murray Group.'
After designing his first car in 1967, the Durban-born Murray moved to the UK to join the Brabham Formula One Team as technical director, winning world championships in 1981 and 1983, then moved to McLaren International as technical director in 1988, where the team won three consecutive championships – 1988, 1989 and 1990.
Having accrued 50 Grand Prix wins in Formula One, he went on to establish a new company – McLaren Cars Limited. The company's first project was the renowned McLaren F1 Road Car. A racing version won two world sports car championships and the 24 Hours of Le Mans in 1995. Murray guided several other successful projects at McLaren Cars, culminating with the Mercedes-Benz SLR McLaren programme.

In 2005, he formed a new British company for the design, engineering, prototyping and development of vehicles – Gordon Murray Design Limited. The Surrey-based company now has a global reputation as one of the finest automotive design teams in the world.
MORE: McLaren range to be fully hybrid by 2025
MORE: McLaren Ascot named manufacturer's European Retailer of the Year
MORE: Another record-breaking year as McLaren doubles car sales