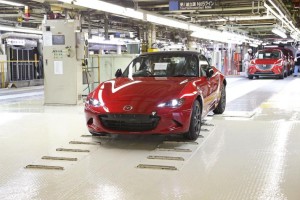 ORDER books are now open for the new Mazda MX-5.
The first models are now rolling off the assembly line at Ujina Plant No.1 in Hiroshima. While they are destined for the Japanese market, where sales begin in June, they will arrive in the UK later this summer.
It is the the fourth generation of the iconic two-seater and the lightest MX-5 since the first generation and the European market will have the choice of two lightweight petrol engines, delivering 131PS and 160PS.

First launched in 1989, the Mazda MX-5 holds the Guinness World Record for the best-selling two-seater sports car of all time.
Ahead of its arrival in dealerships later this year, UK customers can now register their interest and, from yesterday, are able to pre-order the car on Mazda.co.uk
MORE: Green credentials becoming more important for car buyers
MORE: IMI calls for 70% increase in pay for apprentices

MORE: Motors.co.uk launches new TV ad campaign – with a finger…