A 'RECKLESS' dealer who sold a potentially fatal car for £490 has been ordered to pay £5,958.
Matthew Twigg's A5 Motor Group Ltd – based in Leather Mills Lane, Hartshill, Nuneaton, and whose registered office address is in Wenlock Road, London – had been targeted by Warwickshire Trading Standards as part of a wider undercover probe into the sale of dangerous and unroadworthy vehicles.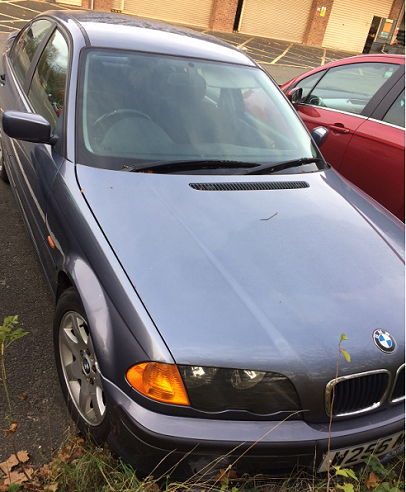 Trading standards officers from the county council bought a BMW 318i for £490, advertised as having a 'service history', from the dealership, which was described as one of the county's most complained-about traders. When the car was looked at in detail by an expert vehicle examiner, numerous faults were identified.

The car, pictured, was found to have suspension problems, a leaking shock absorber, incorrectly attached wiper blades and a severe engine oil leak.
Twigg admitted two offences under the Consumer Protection from Unfair Trading Regulations 2008 at Nuneaton Magistrates' Court and pleaded guilty on behalf of the dealership to two further offences under the regulations.
The 34-year-old, of Middlesmoor, Wilnecote, Tamworth, was described in court as 'reckless' and it was stated that if he didn't know what he was doing he should have done.
Magistrates commented that 'someone could have been killed' if the wheel had come off, and that Twigg was 'lucky no one was hurt'.

Twigg was fined £500 and A5 Motor Group Ltd a further £500 at the hearing on October 16. Both the owner and the company were also ordered to pay costs of £2,454 each. Twigg was further told to pay a £50 victim surcharge, bringing the total amount payable to £5,958.
In mitigation, the court was told that the company now had a fully qualified mechanic on site, a car ramp and held RAC certification.
After the case, Warwickshire county councillor Andy Crump, portfolio holder for community safety, said: 'Warwickshire Trading Standards will continue to take action to protect consumers from car traders who seem happy to put their customers' lives at risk by selling those cars that are dangerous or unroadworthy.'
Pictures via warwickshire.gov.uk
MORE: Car dealership bosses jailed over tax frauds worth more than £360,000
MORE: Trader found guilty of selling dangerously defective car
MORE: Kent dealership falls victim to suspected arson attack